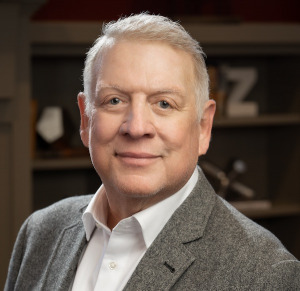 Paul Estridge Jr., one of central Indiana's best-known and most-prolific homebuilders, died Sunday at Methodist Hospital. He was 65.
Estridge, who was a lung transplant recipient in November 2020, contracted a lung infection in recent days that his family said he could not overcome. He received the transplant to treat idiopathic pulmonary fibrosis, an incurable lung disease.
Estridge was around homebuilding his whole life, experiencing some dramatic ups and downs over the course of his career. Last year, he was named to the inaugural class of IBJ's Indiana 250, a list of the most influential business leaders in Indiana.
He was 10 years old in 1967 when his late father, Paul Estridge Sr., formed Paul E. Estridge Homes. The son established his own company, The Estridge Group, in 1983 when he was 25, and bought out his father's business in 1992.
Since 1967, Estridge companies have built nearly 9,000 homes in central Indiana. The company had as many 150 full-time employees and was building hundreds of homes a year in the early 2000s.
The Great Recession hit The Estridge Group and other builders hard. According to the Builders Association of Greater Indianapolis, home permits filed in central Indiana dropped from 13,202 in 2005 to 3,720 in 2010.
Estridge was forced to close the company in 2011 after it accrued more than $50 million in debt against assets of less than $5 million. He and his staff went to work for Houston-based David Weekley Homes, opening that builder's first Indianapolis office.
Estridge staged his comeback in 2013 when he launched Estridge Homes LLC with help from a $25 million investment from North Carolina-based private equity firm Mountain Real Estate Capital.
One of Estridge's proudest achievements was Centennial, a 1,100-home development in Westfield that his company developed between 1998 and 2010. That neighborhood was landscaped with more than 12,000 trees. It also includes a spec-built church alongside all the homes.
Estridge family companies also developed the Harmony and Serenade neighborhoods in Westfield. Estridge also was involved in a few unique projects—his firm built a custom home for Larry Bird in Indianapolis in 2002.
Estridge also was an entrepreneur across many other industries during his 40 years in business, including interconnecting technologies, mortgage lending, parimutuel horse racing and aviation management.
He is survived by his wife, Judy; three children, Mary Ellen McIntyre (Coleman), Elyse Harvey (Scott), and Joshua Estridge; and three granchildren, Cashel Timothy McIntyre, Amos Paul McIntyre, and Ruth Rose Harvey.
Funeral arrangements will be announced later.
Please enable JavaScript to view this content.