Excitement at the Indianapolis 500 doesn't necessarily carry over to the Indianapolis Motor Speedway Museum, a building inside the track mostly known for displaying historic cars in a restrained setting.
But the museum's latest exhibition is meant to spark excitement by focusing on an era of cultural upheaval at both Gasoline Alley and away from the track.
"Roadsters 2 Records: The Twelve Years that Revolutionized the Indianapolis 500" spans 1960 to 1972, when car designs changed radically, international drivers made a big impression, and the race arrived on television sets across the United States.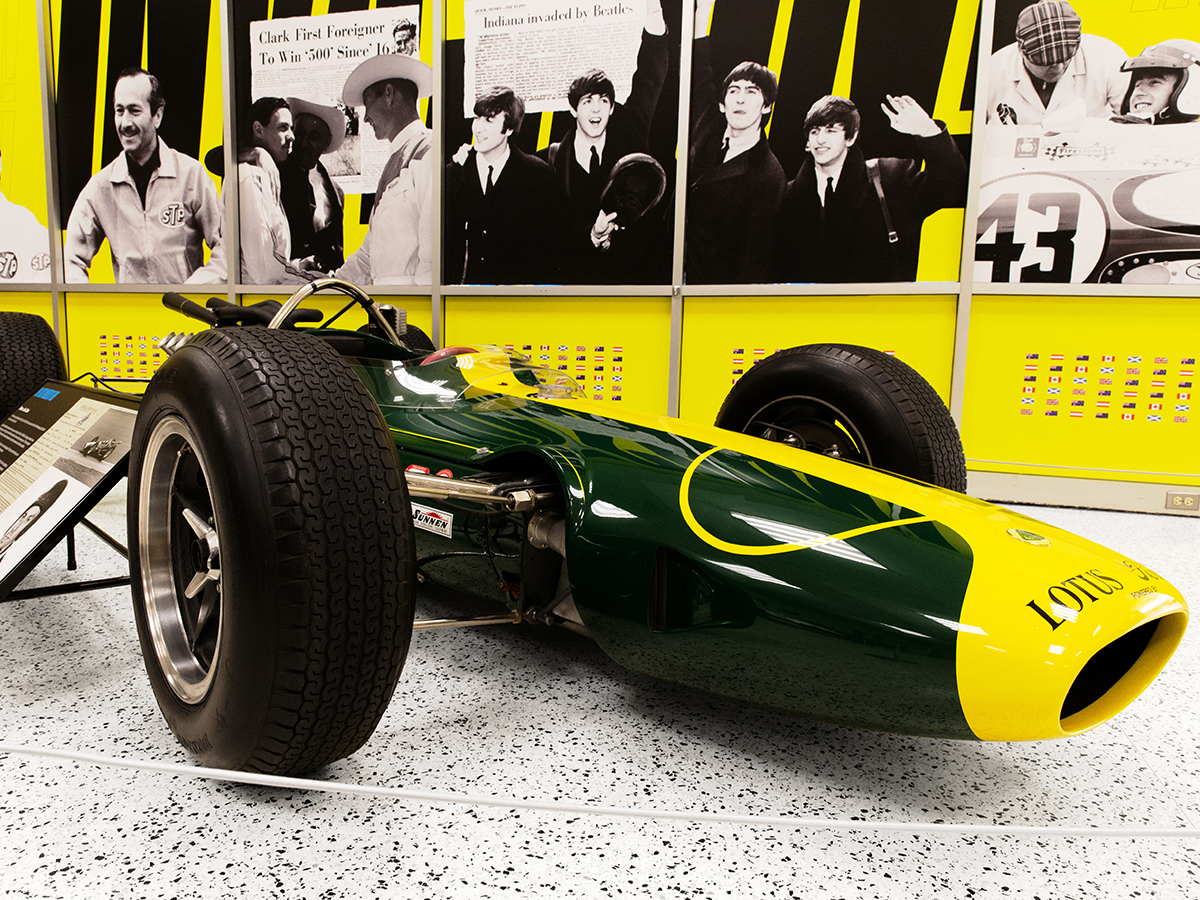 The museum brought on Lauren Sparkman, daughter of former Indianapolis Motor Speedway CEO Tony George, to assist with development and production of "Roadsters 2 Records." And Sparkman enlisted Owen Thomas, a creative director who formerly sang in Indiana rock band the Elms, to oversee the exhibit's pop-art visuals that are brightening the museum's main exhibition area.
Thomas, founder of Fountain Square-based creative agency Absorb, isn't subdued when talking about the revolution that made front-engine cars, or "roadsters," fall out of fashion and give way to speedier rear-engine models.
"Any time that life throws a big cultural left hook at us, I think that's exciting," said Thomas, who grew up in Seymour. "I would challenge anybody who either knows or doesn't know the sport to come witness a big cultural left hook. It's really fun."
In 1960, the Indy 500's fastest qualifying speed topped 146 mph. A dozen years later, Bobby Unser—aided by a newly authorized bolt-on rear wing—ushered in the race's modern era with a pole-position speed of 195.940 mph.
"What you're talking about here is not something as simple as, 'Hey, this is a development in an industry,'" Thomas said. "It's a complete rethink."
A rethink or overhaul for the museum itself has been a topic of discussion since 2015, when the not-for-profit foundation that owns the 96,500-square-foot facility (with 37,500 square feet of exhibit space) adopted its first master plan after six decades of existence.
In 2018, then-Executive Director Betsy Smith talked about plans to double the size of the museum, add a 3-D theater, and introduce interactive digital experiences and virtual- and augmented-reality displays.
Smith, however, exited her role in 2020. Joe Hale, who began his tenure as the museum's president in January 2021, said any makeover plans are back in the garage, so to speak.
"We've spent the last year evaluating things," said Hale, a Hanover College alum who worked as executive director of The Dreamland, a Massachusetts film and cultural center, before being hired to lead the IMS Museum. "I'm not sure the board completely embraced [the plan outlined by Smith]. Then, with the pandemic, it was put away."
Hale said it's too early to share details of his overall vision for the museum, but he said he's committed to a more interactive, experiential, immersive and educational future for the building inside the track's short chute between turns 1 and 2.
"We have to get a plan that's going to get people excited, and it's going to be good for the next 50 years," Hale said.
Growing up at the track
Sparkman describes "Roadsters 2 Records" as a "stepping stone" toward the IMS Museum of the future.
The sister of IndyCar driver/team owner Ed Carpenter and former Indy Lights series director Tony George Jr. knows the building's past. When Sparkman was a youngster, the museum doubled as home of the track's administrative offices.
"I spent a lot of time crawling around on the floors of this building," she said. "It's very meaningful to me."
Sparkman, whose Citizenry Press company invests in creative ventures, said she was eager to tell the story of the mavericks who shaped the "Roadsters 2 Records" timeline.
The exhibition begins with a display of two cars that made it to Victory Lane near the end of the front-engine era: Ken Rathmann's No. 4 Ken-Paul Special (1960) and Parnelli Jones' No. 98 Willard Battery Special (1963).
Nearby is the car credited for launching the rear-engine revolution at IMS: Jack Brabham's No. 17 Kimberly Cooper-Climax (1961). Brabham, an Australian driver, shook up Indianapolis by finishing in the top 10 and completing all 200 laps.
Scottish driver Jim Clark made history in 1965 as the first Indianapolis 500 winner in a rear-engine car. "Roadsters 2 Records" includes Clark's No. 6 Lotus 34 car, which qualified for pole position at the 1964 race. The Beatles, who also visited Indianapolis in 1964 (and stayed overnight at the bygone Indianapolis Motor Speedway Motel) are pictured on the wall behind Clark's car.
"I think the idea of disruption and disruptors leading to innovation is a timeless story," Sparkman said.
Thomas said it was a treat to spend time with photographs, car entry forms and race programs while working on the exhibition.
"The museum has done a wonderful job archiving all the feelings that have accompanied the years," Thomas said. "We thought, 'People should feel that.' People should feel the presence of all this, as opposed to just observing it in a historical way. Let's try to put them in the moment a little bit more."
A time of transition
Jason Vansickle, the museum's vice president of curation and education, is part of the exhibit design group that formulated the "Roadsters 2 Records" idea in 2019.
The exhibition began to take shape before Roger Penske purchased the track in November 2019, before the pandemic and before Hale became the museum's leader. "Roadsters 2 Records" originally was scheduled to open in March 2020.
"It's exciting to see [the exhibition on display], because we've been looking at it on a computer screen for 24 months," Vansickle said.
The collaboration between the museum and Sparkman's team isn't the typical way exhibitions come together. But because of pandemic complications, the two entities presented a different show, "Granatelli: Larger Than Life," before "Roadsters 2 Records."
Initially intended to be a companion exhibition to "Roadsters 2 Records," the tribute to car owner and STP oil-additive marketer Andy Granatelli opened as a stand-alone attraction in August 2020.
Because of the pandemic delay affecting "Roadsters 2 Records," Vansickle was faced with do-over work when borrowing some of the cars for the exhibition. Cars owned by collectors in California, Washington, Kansas, Ohio and New Jersey are on display.
Meanwhile, the museum is in the process of refining its collection of vehicles to focus on cars that appeared in races at the Indianapolis Motor Speedway.
By selling cars that don't fit that criteria, the museum's collection will decrease from 350 cars to 200.
Since June 2021, four of the museum's passenger cars have been auctioned for more than $1 million each at website bringatrailer.com.
A 1927 Mercedes-Benz 680 S Sport/4 sold for $2.8 million on March 4, setting a record as the most expensive car sold in an online auction.
The other seven-figure transactions: a 1930 Mercedes-Benz 770K Four-Door Cabriolet by Voll & Ruhrbeck, $2.5 million; a 1955 Mercedes-Benz 300SL Gullwing, $1.5 million; and a 1935 Duesenberg Model JN Convertible Sedan by Rollston, $1.3 million.
Because of Internal Revenue Service rules, funds from auctioned cars cannot be used for the museum's operating costs or future modifications to the facility. The money must be reinvested in the collection.
"Proceeds will go for the care of the collection," Hale said.
Apart from Penske
Hale also noted that the track's owner, Penske Entertainment Corp., has no ownership in the museum.
"A lot of people don't understand that," he said. "Their first question is, 'Why don't you let Roger pay for it?' He owns the building, and he's a benevolent landlord. He gives us this building for $1 a year. And he allows us to use that track for our tours, which is great."
Hale said a capital campaign is a near certainty to pay for substantial improvements to the museum.
For now, "Roadsters 2 Records" will be the main exhibition at the museum during the GMR Grand Prix (May 14), Indianapolis 500 (May 29) and other races through October.
"Second," an exhibition inspired by drivers who were runners-up in the Indianapolis 500, will follow "Roadster 2 Records." Sparkman and Thomas will work on "Second."
Also in the works, Hale said, are "Sleek," an exhibition based on drivers' helmet art, and a show devoted to fashion.
For "Sleek," the museum is partnering with Indianapolis visual artist Amiah Mims. As one of the artists who contributed a letter to the 2020 "Black Lives Matter" mural on Indiana Avenue, Mims is a member of The Eighteen Art Collective.
In addition to drivers' helmets, the exhibition will commission nine helmets designed by Indianapolis artists.
"For so long, the museum really hadn't been part of the cultural conversation in Indianapolis, not part of the cultural fabric at all," Hale said. "We're really working hard trying to change that. We're looking at collaborations and partnerships with a lot of different groups in town."
Sparkman said Indianapolis, the track and the museum are connected in important ways.
"The museum is the only 364-day-a-year access that guests have to the city's largest tourist destination," Sparkman said. "I think the opportunity and the promise of the future of this museum [are] incredible."•
Please enable JavaScript to view this content.