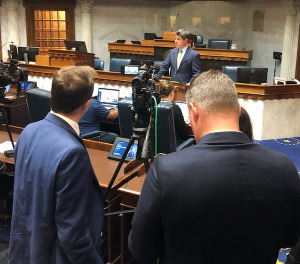 Republican leaders in the Indiana Senate on Wednesday proposed legislation that would ban abortions from conception except in cases of rape, incest and to protect the life of the mother, ending weeks of speculation on how restrictive their proposal would be after the U.S. Supreme Court turned such decisions over to the states.
"We in the pro-life movement have long believed in exceptions to abortion restrictions for the life of the mother, and that is reflected in our legislation," Sen. Sue Glick, R-LaGrange, said in a written statement. "In addition, we recognize there are heartbreaking cases where, because of violence committed against women and young girls, providing some additional exceptions is necessary. That's why the legislation we are introducing provides exceptions for cases of rape and incest, which I believe a majority of Hoosiers support."
Glick and Senate President Pro Tem Rodric Bray, R-Martinsville, unveiled the legislation at a Statehouse news conference in advance of a special legislative session that begins Monday and also will consider ways to use a portion of the state's $6.1 billion in reserves to provide inflation relief to Hoosiers.
Indiana Democrats immediately attacked the bill as a setback for women, because it would ban abortion in nearly all cases. It also would not make exceptions for the health of the mother, such as a woman with kidney disease who would be forced to give up dialysis during pregnancy, and could get seriously ill as a result.
"It's a clear indication we're in trouble and Indiana is taking a step back in regard to women's health," said Senate Democratic Leader Greg Taylor of Indianapolis.
Glick said it was important to note that the Senate's proposed abortion legislation does not affect: access to the morning-after pill or any other method of birth control; treatment of miscarriages or ectopic pregnancies; in-vitro fertilization procedures; or prohibit ending a pregnancy when the unborn child would not be able to survive due to a fatal fetal anomaly.
She said the bill also does not criminalize women seeking an abortion or create any new penalties for doctors who perform abortions. Doctors, however, would continue to be subject to having their licenses revoked if they perform an illegal abortion.
The bill says physicians can use "reasonable medical judgment" based on the facts known at the time that would be made by a "reasonably prudent physician" who is knowledgeable about the treatment possibilities.
Senate GOP leadership also is proposing a $45 million Hoosier Families First Fund for a variety of programs to support pregnant women and children. They also propose increasing the state's adoption tax credit from from $1,000 to $10,000, costing the state another $5 million.
The Senate's proposal is just the first step of a legislative process that is expected to last two or three weeks and could be altered along the way, especially as it heads to the House, where Republican leaders have yet to disclose their preferences.
Indiana appears to be the first Republican-led state to take up new abortion legislation since the U.S. Supreme Court's decision last month to overturn Roe v. Wade, the 1973 ruling that held the Constitution protected a woman's right to an abortion before the viability of the fetus outside the womb. Republicans hold supermajorities in the Indiana House and Senate.
Other states jumped in even before the Supreme Court handed down its decision. Over the last year, 13 states enacted so-called "trigger laws" banning abortions under most conditions—laws that automatically took effect once the Supreme Court ruled.
Abortions are now legal in Indiana up through 22 weeks of pregnancy (after a women's last menstrual period), with certain exceptions afterward for medical emergencies.
Under current Indiana law, abortions must be performed by a licensed physician. After the first trimester of pregnancy, abortions must be performed in a hospital or licensed surgical center. Before getting abortions, patients must undergo an 18-hour waiting period. Providers are required to show patients a color brochure about fetal development, fetal viability and the risks of surgical abortion.
The bill would need to clear both houses of the Indiana General Assembly and be signed by Gov. Eric Holcomb in order to become law.
Reaction to the bill came in swiftly on Wednesday.
"It is unconscionable that Indiana Republicans are gambling with the lives of Hoosier women to gain points in an ultimately unwinnable culture war," said House Democratic Leader Phil GiaQuinta, D-Fort Wayne. "The choice to have an abortion is a personal decision that ought to be left up to a woman and her health care provider, not Republicans who are playing doctor in the Indiana Statehouse."
State Rep. Chris Campbell, D-West Lafayette, said the social, cultural, medical and economic toll of a ban on abortion will be devastating to Indiana. "I am committed to fighting for Hoosier women in this special session and defending our freedom of choice," he said.
LaKimba DeSadier, Indiana State Director for Planned Parenthood Alliance Advocates Indiana said the proposed ban would prevent providers from giving legal and safe care. "Even the bill's limited exemptions would leave providers risking investigations, and even criminalization, making them exceptions in name only," she said.
The president of Indiana Right to Life, one of the state's largest anti-abortion groups, called the bill "weak" and "troubling."
"As the bill reads now, the 8,000-plus abortions that take place annually in Indiana would continue unabated in counties like Marion County where the prosecutor has already stated he will not enforce the law," Mike Fichter said in written remarks. "That is unacceptable and pro-life Hoosiers will not silently let that stand."
.
Please enable JavaScript to view this content.