The NCAA's efforts to address equity imbalances that made headlines during last season's Division I men's and women's basketball tournaments could lead to a joint Final Four later this decade, with Indianapolis believed to be a likely contender for hosting such a spectacle.
But not everyone is on board with the idea of combining the championships—or even the idea of a dual Final Four in Indianapolis, as some are skeptical the city has the hotel capacity to accommodate such a large event.
The Indianapolis-based NCAA said Sept. 30 its basketball committees are in the early stages of discussions about what a combined Final Four weekend would look like. But even if those plans are finalized by the end of the year—as the NCAA hopes—such an event couldn't occur before 2027 at the earliest, because the organization has contracts for Final Four sites through 2026.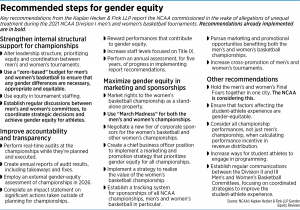 Consideration of a combined Final Four site follows an external review of highly publicized gender-equity problems that came to light during the 2021 basketball tournaments, including significant differences in weight-room accommodations, hospitality amenities and even welcome packages for participating student-athletes.
The idea to have the men's and women's tournaments conclude in the same city was proposed as part of that review, which was conducted by New York City firm Kaplan Hecker & Fink LLP and published Aug. 2.
Nina King, chair of the Division I Women's Basketball Committee, said the organization is "committed to continuing discussion about the concept," but stopped short of affirming such a proposal would actually move ahead.
"Finding ways to address the gender-equity issues that have come to exist through the years between the Division I women's and men's basketball championships is a priority, and we are dedicated to making impactful changes," she said.
A few more concrete changes to support equity are already underway, such as implementation of the "March Madness" branding for the women's tournament starting this season.
The NCAA is also adopting a budgeting policy that requires it to start from scratch each year for both tournaments, rather than adjusting from the prior year's budget. The move, officials said, is meant to determine where funding differences occur and make expenses more equitable.
One of a few
Currently, there are key differences between how the men's and women's tournaments are conducted. The men's tournament is generally played at all neutral sites, while the women play at campus locations for the first two rounds before shifting to neutral locations during regional play.
The men's semifinals and final are typically held in a covered football stadium, but the women's Final Four is mostly held in large basketball arenas such as those used by NBA or NHL teams. Only about a dozen U.S. cities have both types of venues, Indianapolis being among the smallest of those.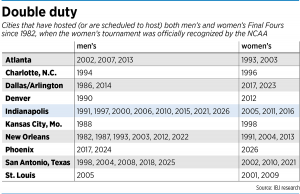 Hosting both title games would all but eliminate cities like Charlotte, Cleveland, Columbus, Denver and Nashville from competition because they lack the facilities to host the men's tournament.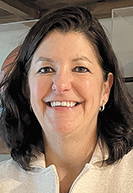 The move would "further limit the options, in terms of places that you can go that have both of those things," said Michelle Perry, a former NCAA executive and president of Gamechangers Consulting, an Indianapolis-based sports consultancy. "I would just be sorry that the options would be further reduced and there would be pretty regular and predictable rotation of future sites."
To date, only 10 cities—including Indianapolis—have hosted both the men's and women's championships since 1982 (the first year of the women's tournament), though never in the same year. Indianapolis has hosted the men's Final Four seven times since 1982—including this year, when the state played host to the entire tournament—and the women's title game three times, most recently in 2016.
As such, Indianapolis is certainly on the NCAA's radar as the organization continues its internal conversations about a merged event.
"It makes complete sense to explore Indianapolis as a possibility to stage this," David Worlock, director of media coordination and statistics for the NCAA, told IBJ.
"I would say Indianapolis is on the smaller side of [the list], but the size of the market has not prevented in any way Indianapolis from getting large events," he added.
He acknowledged that only about a dozen locations could dual-host.
Holistic experience
The success this year, in a COVID bubble, of the men's tournament in Indianapolis and the women's tournament in San Antonio are proof positive, he said, that the NCAA can "do something that is different" from its typical approach.
That doesn't prove the organization can pull off both tournament championships in one place, but "it does provide some clarity that a city is able to adapt," he said.
"That's one thing that makes Indianapolis so great in our regular rotation for the Final Four: No one treats it like a cookie-cutter event," he said.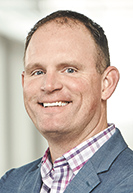 David Pierce, a sports management professor and director of IUPUI's Sports Innovation Institute, said Indianapolis is a sensible location for simultaneous Final Fours.
Not every city is laid out like Indianapolis, where the would-be venues—Lucas Oil Stadium and Gainbridge Fieldhouse—are within a few blocks of each other, he said.
But, "what happens if you're in a city where the sports venues are more spread out, and one venue—likely the men's location—is downtown, and the best place for the women's tournament is a 20,000-seat venue 15 miles away in the suburbs?" he asked.
Perry said Indianapolis would be able to offer a holistic experience for fans and student-athletes alike, because of the proximity of its various facilities.
But Indianapolis' relatively small hotel inventory might raise concerns.
The market has about 34,000 hotel rooms, most of which are booked during the men's Final Four, which draws at least 80,000 people. The women's semifinals and final generally attract about half that number.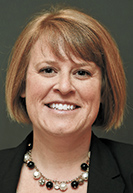 Stevie Baker-Watson is director of athletics at DePauw University in Greencastle. She said she's not certain Indianapolis could support an event the size of a combined Final Four.
"Could you imagine taking everything that you know about how the city of Indianapolis operates during that time, and then add another event on top of that, which would add another [tens of thousands] of fans?" she said. "As great as Indy is, I don't know if we have the hotel capacity to do that."
IBJ asked the Indiana Sports Corp., the organization that bids for and organizes events like college championships, to comment about the possibility of hosting a combined Final Four, but it declined. So did Visit Indy, the city's tourism agency.
Uncertain rotation
Indianapolis will next host the men's Final Four in 2026, making it unlikely the city would be picked for the 2027 or even 2028 events. It's not yet been given a new slot for the women's championship.
The next round of championship locations, through 2031, is to be announced by late 2022.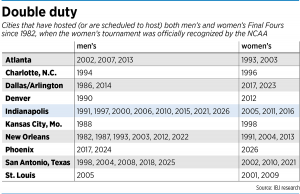 Worlock said the first dual Final Four—if such an event happens—wouldn't necessarily need to be held in Indianapolis, nor would it have to be in 2027.
So far, there's been no discussion of where Indianapolis would fall in the next rotation of host cities, although it's all but guaranteed a spot as part of a 2004 deal that commits the NCAA to choosing Indianapolis as a men's or women's Final Four host an average of once every five years through 2039.
Cities rarely host exclusively the men's or women's championship in back-to-back years. In fact, that hasn't occurred on the men's side since 1962 and 1963 in Louisville, and in 1988 and 1989 for the women's championship in Tacoma, Washington.
It's more often that cities will host both Final Fours in a two-year span. Indianapolis has done it three times (2005-2006, 2010-2011 and 2015-2016); New Orleans has done so twice (2003-2004 and 2012-2013); Atlanta has hosted the Final Fours in back-to-back years once (2002-2003).
Early hesitancy
Perry said she isn't sold on the idea of a dual men's and women's tournament, partly because she's not convinced it will address the equity disparity.
"I don't want this to be an exercise … to say they define equity as 'equal' and move this to a joint championship, so that it makes it almost impossible for it to not be equal," she said. "But in doing that, it reduces the chance that the sport and the championship are able to grow and blossom and prosper like they could if they were left as stand-alone events. I don't want them to be stifled."
She said a combined Final Four could lead the women's event to be upstaged, rather than uplifted, due to a variety of factors—including lodging and travel costs.
Perry noted hotel rooms are generally much higher for the men's Final Four than for the women's, raising a fear that some women's fans might get priced out of attending.
DePauw's Baker-Watson also said she's more inclined to support keeping the men's and women's events in separate cities, though she recognizes some basketball fans might prefer seeing the men's and women's games in one place.
Baker-Watson, who was on the Division III Management Council as recently as 2020, said there are other steps the NCAA should take before considering combining the events, such as making changes to governance and administrative structures, and improving the optics of the women's tournament, like the recent adoption of the March Madness moniker for both tournaments.
She opposes suggestions that the men's tournament should have to sacrifice any of the sizable revenue its success has brought. But, she said, more opportunities should be created for the Division I women's game to benefit from its exposure through TV contracts.
An addendum to the Kaplan study, conducted by Desser Sports Media, found the NCAA "significantly undervalued" the women's tournament in its media-rights deals with ESPN. That deal, which goes through 2024, is worth $34 million annually, or about 4.5% of the annual value of the men's basketball tournament.
Both the Desser and Kaplan studies recommend that the NCAA consolidate the Final Fours in one city to make the most of cross-promotion, ticketing and sponsorships.
However, the reports also supported the idea of hosting each set of games in a single venue, rather than in separate locations—something Baker-Watson said could draw stark contrast in broadcasts and for ticketed fans, ultimately hurting women's basketball.
According to the Associated Press, the Women's Basketball Coaches Association found its membership largely split on the idea of a combined Final Four, with about 55% in support of it.
'Real movement'
Stanford coach Tara VanDerveer told AP she supports exploring the idea if it is done correctly but isn't concerned with the likely scenario of the men's and women's games continuing to be held in different venues.
"I think we should recognize that the sports are in two different places," she said.
"Do what's best for growing women's basketball. Women's basketball is not where men's basketball is because we started later and haven't been promoted as heavily," she said. "We have catching up to do. You're in an 18-20,000 seat arena—we can fill it up. I don't know we're selling out the dome yet."
Baker-Watson said she is hopeful the women's game won't take a back seat to the men's in any decision ultimately made about the Final Four.
"I think the women's game deserves to be able to stand on its own, if that's what they want it to be able to do," she said. "I don't want the decisions to be dominated by the men's basketball side of things because we all think it would be better for the women—as opposed to actually asking the women and following their direction."
WBCA Executive Director Danielle Donehew has said she is encouraged "to see real movement by the NCAA in addressing the gender-equity concerns" raised in the Kaplan report.
"We look forward to many more such announcements in the weeks and months ahead," she said.
IUPUI's Pierce said any decisions about how to make the game more equitable will require intense conversations and strong considerations of how the women's Final Four could be affected by a decision to consolidate.
"Ultimately, you can promote an event like that, but you can't force there to be the demand for 60,000 people to attend or to buy tickets," Pierce said. "The trick will be finding the right mix of facilities and the best layout in these possible cities, so the women's tournament has the excitement, the resources, the access and the vibe that puts it at the level that it should be at, which is what their ultimate goal is.
"The devil is always in the details," he added.
To Baker-Watson, the NCAA should be focused on ensuring all its student-athletes are getting fair treatment and that its championships are meeting the standards each event deserves.
"I don't think that we're in a space where [the NCAA] should be making a value judgment about which championship, or which gender, is more important than the other, but instead looking at the experience of our student-athletes in that space," Baker-Watson  said.
We have an obligation to provide them with a similar experience such that, if they were to trade places with the other gender, that they would enjoy that experience as well."•
The Associated Press contributed to this story.
Please enable JavaScript to view this content.