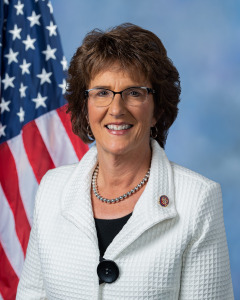 A special election to fill the now-vacant seat in Indiana's 2nd Congressional District following the death of U.S. Rep. Jackie Walorski will coincide with the Nov. 8 general election, the governor's office announced Tuesday. The candidates to finish out her term will be announced by the end of the month.
Indiana Gov. Eric Holcomb issued an executive order Tuesday announcing the special election. The winning candidate will serve in Walorski's seat until her current term expires at noon on Jan. 3.
The special election announcement came almost one week after Walorski died in a northern Indiana car crash. Her funeral will be held Wednesday.
The governor's office explained that both the U.S. Constitution and Indiana Code § 30-10-8 require a special election to fill a congressional seat even though other elected federal offices can be filled by appointment.
Indiana Republicans and Democrats will meet in a caucus of precinct committee members who represent the "old" 2nd District—the district boundaries that were in effect when Walorski was elected in 2020. The district has since been altered through the redistricting process.
Once the caucuses have selected their candidates for the special election, certificates of nomination must be filed by noon on Aug. 26 to meet the 74-day deadline set out in Indiana Code. Libertarians, independents, write-ins and candidates from other political parties must meet the same deadline, although their processes of selecting candidates will differ from the two major parties.
Walorksi was running for reelection as a Republican in the Nov. 8 election, so GOP precinct committee members must caucus a second time to select a candidate to replace her in the general congressional race. That caucus will be comprised of different precinct committee members than the caucus for the special election, however, to reflect the "new" congressional district created by redistricting.
The candidate who will replace Walorski on the general election ballot must be selected and properly filed within 30 days of Aug. 4, which is when the Republican Party notified the Indiana Election Division of the ballot vacancy.
Voters in all or parts of Cass, Elkhart, Fulton, Kosciusko, LaPorte, Marshall, Miami, Pulaski, Stark, St. Joseph and Wabash counties will be affected. However, not all voters in those counties will vote for a District 2 candidate in both the special and general elections because the district's boundaries were redrawn in last year's redistricting process.
Specifically, voters in Cass, LaPorte and Kosciusko counties will have slightly different ballots based on the new district maps.
Democrat Paul Steury is the Democratic candidate for District 2. His candidacy is not affected by Walorski's death.
Please enable JavaScript to view this content.