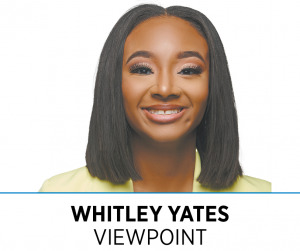 No stranger to hard work, congresswoman Jackie Walorski was a fighter for the Hoosiers of northern Indiana.
Now, she leaves behind a legacy of leadership for others to follow.
Her untimely death has produced a sense of shock felt not just by Hoosiers but by Americans across the country. She was an inspiration to many of her colleagues—both Republicans and Democrats—and respected by all those she met.
That respect was reflected in her position as the top Republican on the House Ethics Committee.
As Minority Leader Kevin McCarthy stated when describing why Walorski was his first call when a vacancy opened on that powerful committee: "Everyone who knew Jackie knows she was tough, but fair—a no-nonsense, straight shooter who knew that Congress must reflect the will of the people with decency and honesty."
But she was more, too.
Congresswoman Walorski was kind, with a heart full of service toward others.
In 2000, she and her husband moved to Romania as missionaries, where they founded Impact International, an agency to help provide food and medical supplies to the country's impoverished children. And when they returned to Indiana four years later, it was her desire to serve in a way that would lead her in a different direction, one where she would represent the people of northern Indiana in the Statehouse.
While in the Indiana House, Walorski quickly rose to leadership in the Republican caucus and became a leading fighter for issues like working to balance Indiana's budget and lowering taxes. She represented her constituents with unmatched passion, something she would continue to do as a member of Congress.
With her passing, we must take up her mantle and remember her legacy of leadership to help us move forward. Congresswoman Walorski was not motivated by the need to create such a legacy, but by the desire to impact others for the better. Now, during this time of remembrance, we should all take a moment to reflect on how we are impacting others in our work.
How will your commitment to a cause or career help others? Are you focused on the "now," or are you focused on the future? Are you in it for the credit or are you in it for the change it will make?
I am sending prayers not only to the family and friends of congresswoman Walorski, but also to the loved ones of Zachery Potts, Emma Thomson and Edith Schmucker.
Walorski leaves behind a legacy of leadership, one that will be remembered in Hoosier history for decades to come. The Republican Party, northern Indiana, the country and, indeed, the world, are all better because of her service.
Job well done, congresswoman Walorski.•
__________
Yates is director of diversity for the Indiana Republican Party, a political commentator and a law degree candidate.
Please enable JavaScript to view this content.