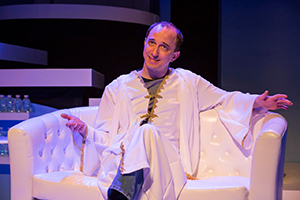 Photo credit Zach Rosing.
For a play whose genesis can be traced back to a series of humorous tweets, David Javerbaum's "An Act of God" (at the Phoenix Theatre through March 12) is surprisingly rich.
Of course, Javerbaum, a former head writer for "The Daily Show with John Stewart" who contributed to the underrated musical "Cry-Baby," stocks his play with plenty of sharp, tweet-worthy one-liners. But there's a story here, too, one in which a cloud-side chat on Ten Commandment revisions leads to self-reflection from God himself (Scot Greenwell).
Sided by his Genesis-tant angels, the Ed McMahon-ish Michael (Joshua Coomer) and the questioning Gabriel (Michael Hosp), God isn't the bearded benevolent guy in the sky, the wrathful Old Testament equalizer, or a misunderstood mensch a la George Burns in "Oh, God."
Instead, he's by turns bemused, frustrated, proud, and ashamed of his creations. And he isn't afraid to go dark—no surprise to anyone who has actually read the Biblical accounts of the crucifixion of his son, the binding of Isaac, or the torturing of Job.
Pleasures in the brisk 90-minute play come from unexpected places. Who knew how much difficulty Cain had in trying to figure out how to kill Abel? (After all, there was no precedent for that first murder.) Who has thought of the challenge the deity faced in created the perfect beetle?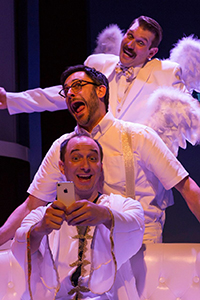 Photo credit Zach Rosing.
God, according to Javerbaum, not only wants our money to trust someone else, he wants athletes to stop thinking he picks sides, and he's tired of clichés about closing doors and opening windows.
The Phoenix is rarely effective at pulling off audience fake-outs and both the opening and a staged "surprise" later on don't click. And some contemporary references are a tad too obvious. But those are minor moments in a play packed with big laughs, surprisingly moving moments, and sharp insight. I've never known Greenwell to simply play the surface of a character and while it might have been an easier road to just play the jokes, he and director William Fisher, to their credit, take God into a richer, more complex place.
While the cast and director are Phoenix vets, there is a debut that should be recognized—set designer Phil Male, who supplied a whimsical, functional, and altogether attractive mix of heavenly staircase and all-too-earthbound water bottles.
Apparently God isn't all that interested in our landfills, either.