Outsiders have long been key in theater.
But, lately, area stages seem to be overrun with characters—including a gaseous ogre, a guy who converses with cats, and a family that has given up on even cursory housecleaning—you wouldn't necessarily invite to your next dinner party.
And that's all to the good.
I'll start with the familiar.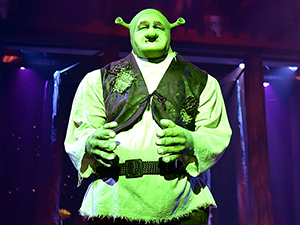 Beef & Boards is offering "Shrek: The Musical" (through July 2). A recount of the story probably isn't needed, given the popularity of the film and its sequels. Suffice it to say that the musical effectively translates the cinematic adventures of Shrek, the would-be loner who gets saddled with a donkey pal and a quest to rescue a princess in a tower.
No, the dragon isn't nearly as imposing or the journey quite so epic as in the film. And there is an element of corporate rather than artistic initiative in the transformation of the movie to stage. But Jeanine Tesori's score (remarkably, she also penned the far-more grounded "Fun Home") contains some gems when in introspective mode, especially the ogre's "Who I'd Be" and "When Words Fail".
The crowd of fairy tale misfits can be a bit grating with personalities not popping as they should, but the leads headed by Peter Scharbrough (usually a supporting player at B&B, comfortable transforming here into both an ogre and a leading man) manage to walk the line between knowingness and naivety, an essential balancing act for this show.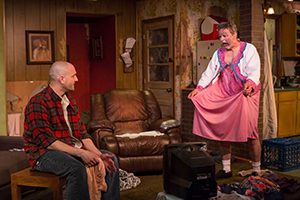 credit Zach Rosing
At the Phoenix Theatre, Taylor Mac's "Hir" (through June 18), is an ideal play for those who think that the people who populate "Buried Child," "Who's Afraid of Virginia Wolfe?," and "August: Osage County" are just too conventional.
A dishonorably discharged son returns from the Army to find his abusive dad (in clown make-up and a nightgown) being pumped with estrogen shakes by his mother—who has embraced household anarchy—while his sister is well down the road to becoming a trans male. And while the soldier, Isaac (Ben Schuetz) spent his enlisted time working in the Mortuary Affairs department, it looks for a while like he'd much rather be there then in the mess on the home front.
And I do mean "mess" literally. The set is a horror of dumped clothing and objects left to fend for themselves. If you think your house is messy, you'll return home feeling like you aren't doing so badly.
Isaac's attempt to find stable ground—his efforts to figure out when to push back and when to adapt—help drive the play, which contains glorious verbal riffs (aptly executed, primarily by the matriarch, played by Jen Johansen).
Through all the absurdity, though, Mac's characters never lose their humanity, making "Hir" a sadly fascinating look at living in unstable times, with rules constantly shifting and our need to adapt to each other often getting in the way of who we are and what we feel.
Don't expect a heartfelt rendition of "Memory" in the cat-centric "Feral Boy" (at the Wheeler Arts Community via Catalyst Repertory through May 28).
The latest world premiere from playwright Bennet Ayres concerns aimless college grad Corbett (Pat Mullen) who becomes obsessed with a trio of neighboring felines. But anyone who has cats knows that these creatures can be notoriously unaccommodating to the needs of mere mortals. I'll leave the rest for you to discover.
Director Zach Stonerock and the show's designers make good use of the Wheeler space through projections and minimal set pieces. And it's impressive how the trio of actors (Matt Anderson, Dane Rogers, and Audrey Stonerock) not only manipulate the creative cat puppets but also infuse them each with the clear and intriguing personalities supplied by Ayres dialogue (yes, they talk…at least to our anti-hero).
The human characters are a bit less interesting and the rest of the supporting players underused. But Ayres remains a playwright to watch and Catalyst should be applauded for working helping develop and present the work of local playwrights in and around its lineup of established work. (Next up: Chekhov's "The Seagull.")