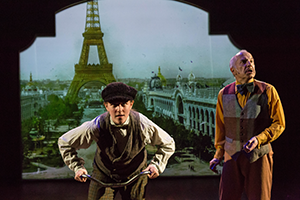 Back in 2014, I called "The Great Bike Race" not only my favorite show of that year's Indy Fringe festival, but also one of my favorites from a decade of Indy Fringing.
Now expanded to feature length, it's even better. This stronger version of "Great Bike Race" shifts to a higher gear, becoming brisker, brighter, and more hilariously satisfying.
I'll go as far to say that the irreverent tale of the second Tour de France is among the best, most fully realized Indiana-artist created original plays I've seen. It's at Theatre on the Square through June 24 but, if there's any justice, will extend for a few more laps.
If I sound like I'm gushing, well, perhaps I am. Too often local-generated original works face compromises in sets, costumes, talent, or tech. Here, though, all of those elements are first-rate and all serve the show. Zach Rosing's video work blends seamlessly with the live action—except when showing the seams is a deliberate part of the fun. Zack Neiditch's script shows no sign of padding. And the cast—about half of whom appeared in the original—is a unified marvel, with standout work from Ben Asaykwee, Frankie Bolda, Carrie Fedor, Craig Kemp, John Kern, Sonja Goldberg, Josh Ramsey, Paige Scott (who also penned the playful tunes), and Evan Wallace.
Yes, I just mentioned the entire cast.
When plays aim for giddiness, the result is too often indulgence (as too often happens with Shakespeare comedies) or sloppiness. Here, though, all of the well-rehearsed craziness fits into an overall comedic vision. Neidtich wisely minimizes the overt anachronisms, giving the show a more timeless feel than one with less restraint might. That being said, an oh-so-brief Super Mario gag is so perfectly executed and unexpected that I'm still smiling about it days later.
Just up the road at the Indy Fringe Building—and on the other end of the silly-to-somber scale—"Spring Awakening" is being presented (through June 18) by Eclipse, an outgrowth of Summer Stock Stage that uses post-high school talent.
I'll admit to being a little hesitant about the prospects for this production, given Summer Stock's truncated version of "Hair" a few seasons back. But the blunt sexuality of "Spring Awakening" isn't curtailed here. It's actually accentuated by the intimacy of the Indy Fringe space—and the knowledge that many in the audience are likely to be family members of the bold cast. At times, watching this production is akin to sneaking a look at a teen's diary and not knowing what to do with what's found within.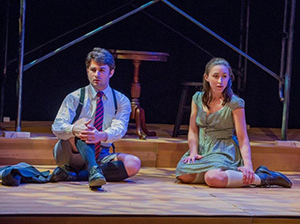 For those new to the award-winning musical, "Spring Awakening" blends alt rock sounds with period drama, telling of late 19th-century students in Germany whose lack of sexual information combine with oppressive adults for disastrous results. Specifically, it's about the sexual awakening of teens Wendla Bergman and Melchior Gabor and the struggles of their friend Moritz Stiefel.
The songs by Duncan Sheik and Steven Sater are unique in that many of them capture the struggling poetics of youth—words and music combining in a struggle to make sense out of natural drives that don't seem to align with what's being taught at home or in the classrooms. There's appropriate ample anger, longing, and pain the lyrics and, in such close proximity, can be difficult to face. But who said art had to make us comfortable?
Director Emily Ristine Holloway makes good use of the minimal set—often just an empty stage and scaffolding, a four-piece band is just right for the space, and the cast rises vocally to the occasion. Only in rare moments did I feel like the actors were playing for effect rather than conveying the characters' truths.
In the end, Eclipse's "Spring Awakening" left me both emotionally drained and, at the same time, excited that another new company has proven itself capable of very strong work—if only for one production a year.