Theatrical rewards in 2017 came from a variety of sources—and on a variety of budgets. Here's the strongest I had the pleasure of experiencing.
"The Great Bike." For a blissful, inventive good time, nothing beat this expansion of Zach Rosing and Zack Neiditch's 2014 Indy Fringe hit. An irreverent account of the second Tour de France, it featured memorable work from the entire field of riders (Ben Asaykwee, Frankie Bolda, Carrie Fedor, Craig Kemp, John Kern, Sonja Goldberg, Josh Ramsey, Paige Scott—who also penned the playful tunes—and Evan Wallace). At the time, I wrote that "an oh-so-brief Super Mario gag is so perfectly executed and unexpected that I'm still smiling about it days later." Make that "months later." Review here.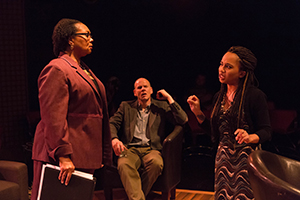 "Human Rites"
"Human Rites." A taut script by Seth Rozin that addressed ethical and moral issues in a surprising way, this Phoenix Theatre production featured a strong three-person cast (Paeton Chavis, Rob Johansen, Milicent Wright) under the assured guidance of director Lavina Jadwani. We won't be a first-rate theater town until first-rate shows such as this have strong audiences. Review here.
"The Curious Incident of the Dog in the Night-Time." With an ending that packed a get-out-your-handkerchiefs wallop, the Indiana Repertory Theatre's production wisely didn't try to compete with its Broadway counterpart for high-tech effects. Here, grounded performance were enough to bring this unusual mystery to vivid life. Review here.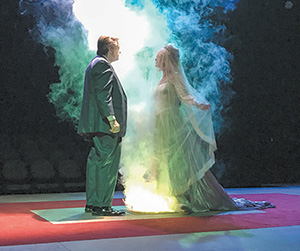 "King Charles III"
"King Charles III." Imagining a future where the death of Queen Elizabeth leads to a political and familial crisis, Mike Bartlett's justly praised play didn't make any Indianapolis schedules, but it was given a worthy staging by Bloomington's Cardinal Stage. With audience seating that echoed the structure of Parliament, Randy White's production featured one of the strongest—and biggest—supporting casts in any onstage drama in the area this year. Review here.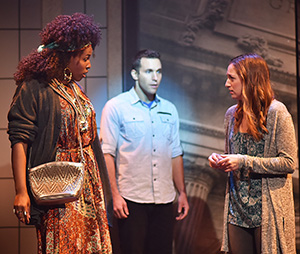 "Ghost"
"Ghost." No, it's not a great musical. But in the hands of Beef & Boards—and some smart rewriting on the part of its creators—this movie adaptation miraculous transformed from the awful show we saw a few seasons back as part of the Broadway in Indianapolis series into a worthy entertainment with some surprising emotional depth. Big credit goes to casting, which parked the soulful Andrea Laxton in the Demi Moore-created lead role. Review here.
Meanwhile, out-of-town triumphs I was honored to witness included Broadway's "The Band's Visit," the Stratford Festival's "Twelfth Night" and "Guys and Dolls," "Objects in the Mirror" at Chicago's Goodman Theatre, and both "Airness" and "Cry It Out" via the Humana Festival of New American Plays in Louisville.
Here's to an even more theatrically thrilling 2018.