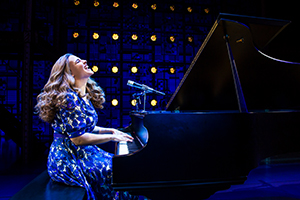 Dismissed by some as just another "Jersey Boys"-wannabee jukebox bio-musical, "Beautiful: The Carole King Musical" (at Clowes Hall through Feb. 4) is light on plot, long on musical side trips, and big on charm.
Like "Jersey Boys," it tells the story of performers that the public didn't really think too much about beyond their hit singles and albums. But while "Beautiful" doesn't have the kinetic energy of the Four Seasons bio musical, it does offer something different, a heroine whose musical growth tracks with her self-awareness. When she finally comes into her own as a singer-songwriter (that's not a spoiler for any of the millions who know "Tapestry"), it's reflected in the songs themselves, giving them weight beyond just a string of hits.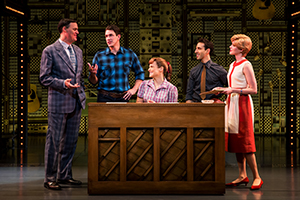 And there's plenty of music to be heard here, not just those from her breakthrough solo album but also a pile written for other performers (including "Pleasant Valley Sunday" and "Will You Love Me Tomorrow"—here given both the King and the Shirelles treatment). There's also an ample supply of tunes by King's pals Barry Mann and Cynthia Weill—played with a kick by Sarah Goeke and Jacob Heime as the best friends you always wished you had (and, if you already do, congratulations). Goeke is particularly memorable in a Kate McKinnon-esque turn.
Your experience with the show may be slightly different than mine, depending on the performance you attend. Sarah Bockel nails the mix of eagerness, self-doubt, and wit of King while also presenting the songs that evoke the originals without become impersonator-night-at-the-casino-lounge obvious. She's only onstage through Feb. 2, though, with understudies Kaylee Harwood and Elena Riccardo filling in Feb. 3 and 4 respectively. It's a tough wig to fill and here's hoping those two are as strong as Bockel.
Whoever is in the lead is surrounded by an uncompromised production that's the most satisfying and consistently entertaining touring show that's hit the Broadway in Indianapolis series in quite some time. It adds up to one fine night at the theater.