Developer Steve Pittman does not expect The Farm at Zionsville to come together exactly as envisioned in the plans Pittman Partners LLC filed with the town last week.

The 62-acre mixed-use project, located at the southwest corner of Michigan Road and Sycamore Street on the eastern edge of Zionsville, is likely to evolve over time based on feedback from officials and residents alike.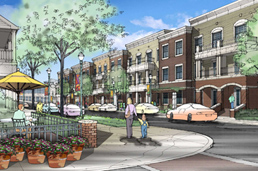 The Farm will feature 400 multifamily residential units. (Pittman Partners LLC/CSO Architects)
"We don't think it's perfect, etched in stone, can't be changed," Pittman said. "If modifications need to be made, we will make them."
Zionsville's Plan Commission could review the proposal at its June 17 meeting. If the panel OKs the project as a planned unit development, it would move onto the Town Council for final approval.
Economic development chief Wayne DeLong told the Zionsville
Times-Sentinel
he expects the bar to be set high, given the property's high-profile location at a gateway to the community.
Pittman, whose family has owned the land for decades, said the proposal is the result of 18 months of research and countless conversations with neighbors. Responses so far have been generally positive, he said, admitting it's impossible to please everyone.
For example, "some people love that we're honoring the history of the property by calling it The Farm," he said. "Others say, 'We love the concept, but we can't stand the name.'"
The preliminary site plan shows retail uses along Michigan Road and office buildings facing Sycamore Street. A 30,000-square-foot specialty grocery store and smaller shops would be at the heart of the development, surrounded by upscale multifamily housing.
Pittman wouldn't identify the grocery store he's targeting, but the development application includes several photos of Whole Foods stores among examples of possible architectural styles.
Austin, Texas-based Whole Foods has said it wants to triple the number of stores it operates, but the retailer
shelved plans
for a location in Fishers earlier this year.
What do you make of Pittman's plans? Is there anything in particular you'd like to see take shape at The Farm?