The story of the Great Squirrel Stampede is a standard in Hamilton County historian David Heighway's repertoire.

More than 100,000 migratory squirrels sweeping through the area—destroying cornfields as they went—certainly attracted attention.

Now a group of up-and-coming leaders is working on a public art initiative inspired by the story, hoping to install a series of squirrel statues throughout the county. (IBJ subscribers can read the full story here.)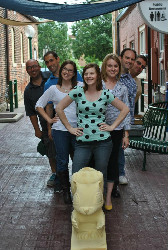 HCLA's squirrel nuts (front to back, left to right): Lindsay Labas, Sarah Reed, Lauren Littlefield, Scott Smith, Carl Johnson, Chris Woodard, Garry Harling
Members of the Hamilton County Leadership Academy latched onto the idea after hearing Heighway's story and even landed a $1,000 grant to get the project started. But they've finished the 10-month leadership program (and their official collaboration), so organizers are looking for help with execution.
Assistance could come from the next HCLA class or another organization willing to oversee fundraising and installation. The fiberglass statues are expected to cost $500-$1,000 each to produce, and organizers envision a half-dozen or so in each of Hamilton County's eight communities.

Group spokeswoman Lindsay Labas said several of the recent HCLA graduates are so invested in the idea that they're willing to see it through on their own time, if need be. But the project likely would have more staying power if it found a permanent champion.

Early feedback has been encouraging, Labas said. What do you think of the project? Does Hamilton County need an infusion of art? Are squirrels a worthy subject?