Less than a year after resurrecting its custom-home showcase, the Builders Association of Greater Indianapolis opens the doors to its 2014 event today in Westfield's tony Brookside neighborhood—signaling the return of high-end housing.

"Home-A-Rama's back because the market's back," said BAGI President Steve Lains, citing pent-up demand following the darkest days of the recession. "Everyone feels good about the direction it's headed."

Indeed, home-building activity throughout central Indiana has increased in 13 of the last 16 months, BAGI reported in May. In Hamilton County, single-family permit filings were up 15 percent in April, compared to the same month last year.

As of the end of May, buyers had closed on 188 homes in Carmel, Fishers, Noblesville, Westfield and Zionsville that cost at least $500,000, according to data from Propertylinx. That's up 8 percent from the first five months of 2013.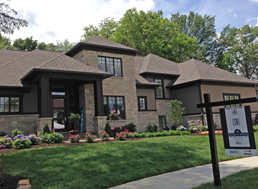 The entry from Hoss Homes has an asking pice of $1 million-plus and features five bedrooms. (IBJ photo)
BAGI put the Home-A-Rama on ice in 2008 (after a 37-year run) as demand for new homes dropped during the housing bust. With the economy improving, it reintroduced the event in October at Carmel's Village of West Clay.

Now plans are in the works to return the show to Carmel next year and Westfield in 2016.

This year's Home-A-Rama features five neighboring homes that range in price from $850,000 to just over $1 million. Two of them have sold already.

Homebuilder Nigel Hoss, whose family-owned Hoss Homes is participating in its ninth Home-A-Rama (five of the houses sold before the show opened), said the event gives builders the freedom to control every aspect of a home's design—and the public a chance to check out the latest trends.

Hoss' entry at 4449 Majestic Oak Court (asking price: $1,050,000) features five bedrooms with a main-floor master suite, a veranda offering plenty of outdoor living space including two built-in fireplaces, and an expansive basement with high ceilings and daylight windows. Everything from lighting to window coverings can be controlled via smart phone.

Other builders in the show are Bedrock Builders, G&G Custom Homes, Heartwood Custom Homes and Showcase Collection by M/I Homes. Brookside is located off 169th Street, east of Carey Road.

While the builders certainly want to sell their Home-A-Rama entries (which typically are built on a speculative basis), the vast majority of attendees are looking for ideas they can apply to their own homes, Lains said.

Each home is fully decorated and landscaped, and many of the vendors are on-site during the show, which is open Wednesdays through Sundays until June 22. Tickets cost $12 in advance and $15 at the door.

New this year: food trucks and beer from Fountain Square Brewing Co., giving the show an "urban block party feel," Lains said.