Carmel's highly anticipated Midtown development will no longer include a co-working space, nor a wine and coffee bar.
More details for the project were revealed this week when Carmel Redevelopment Commission Executive Director Corrie Meyer presented plans to the Carmel City Council for a tax increment financing agreement.
She said Midtown, which stretches more than 11 acres between Carmel City Center and the Arts & Design District, will include five office buildings, providing 200,000 square feet of space, plus 200 apartments, two parking garages and a public plaza. It will cost $85 million.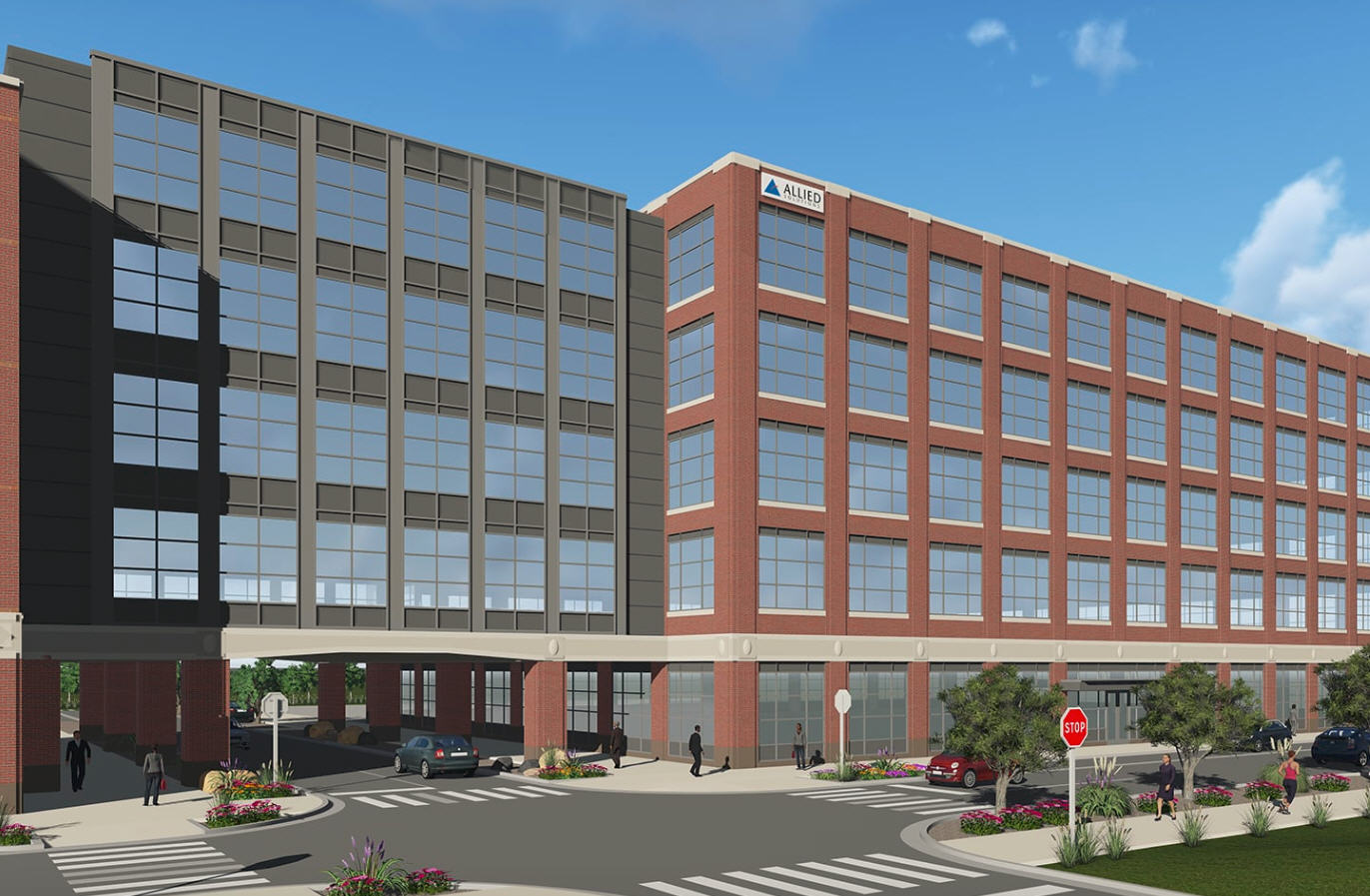 Old Town Development LLC is the primary developer and is partnering with J.C. Hart Co. Inc. and Ambrose Property Group LLC.
Last March, the principal of Old Town Development, Justin Moffett, announced plans for a $16 million, four-story building that would house a co-working space, known as the Edison Business Lounge, along with a vintage coffee and wine bar.
City officials told IBJ on Friday that the co-working building is no longer included in the overall development plan.
Previous descriptions of the project also included 270 condominiums, but Mayor Jim Brainard told the council that financing owner-occupied condos could be difficult without financial backing from the city. He said the city is still working with the developer to explore the possibility.
"We have discussed condos and it's our priority to bring for-sale units into this area," Meyer said, mentioning it could be included in the Midtown West development, which will border Midtown on the west side of the Monon Trail.
Midtown will also include retail space, which was once projected to be 85,000 square feet, but updated size estimates have not been released.
The entire development is expected to be completed by 2019.
Under the financing agreement, the city would provide $16 million to $20 million in TIF dollars to fund construction of a 580-space garage that Allied Solutions LLC would use during business hours, a 300-space garage for other office and retail use, and a public plaza.
About 100 parking spaces are also expected to be available on the streets.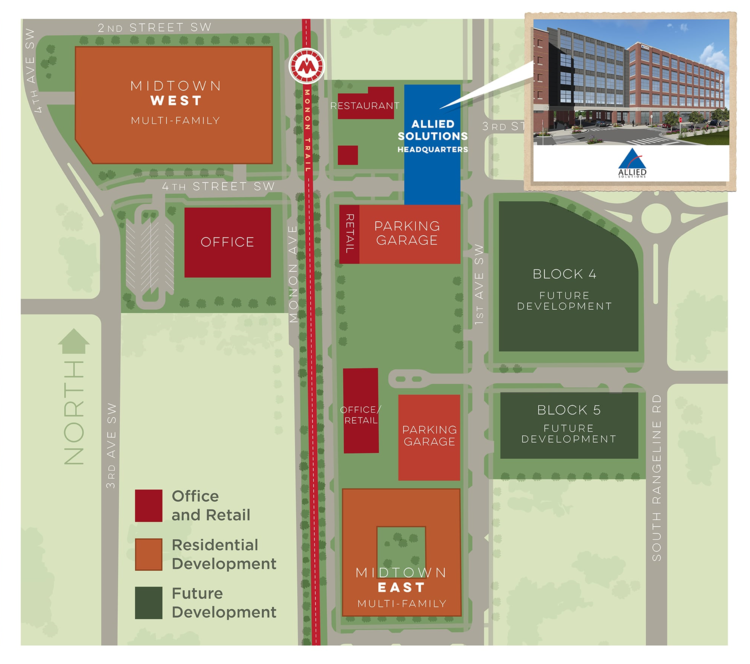 Allied Solutions will be the primary tenant in Midtown, occupying four floors of the five-story headquarters building. The 38-year-old company that sells insurance, lending and marketing products to financial institutions, announced in January that it would invest nearly $33 million to construct a 137,000-square-foot building.
The new office will double the size of the company's existing headquarters on the corner of City Center Drive and Pennsylvania Street.
Merchants Bank of Indiana also plans to relocate its corporate headquarters to Midtown, but the exact location is unknown and will not be included in the five currently proposed office buildings.
The company announced plans in May to move to a $25 million, 100,000-square-foot mixed-use building. Merchants Bank's corporate offices are now housed in leased space in two other buildings in Carmel.
The city is also considering a study of the Monon Trail in the Midtown area to determine how to best handle an increase in users.
The financing plan is scheduled to be discussed at the council's finance committee meeting Tuesday. As of the council meeting on Monday, the plan had not been finalized even though it was introduced for consideration.
"There actually are some details yet to be determined," City Council and CRC member Jeff Worrell said.
Midtown has been in the works for years, as city officials see it as a key component of linking the Arts & Design District and City Center.
"The intent of Midtown as a whole is to fill the gap," Meyer said. "It will allow us to create a more vibrant downtown."