Carmel resident and serial entrepreneur Jenn Kampmeier has started about a dozen businesses, but none compare to her most recent endeavor — the Vino Mobile Bar.

"This has been by far the most challenging business I've ever started," Kampmeier said as she explained the lengthy permitting process and requirements she has to follow for her vehicle, which is modeled after a food truck but specializes in selling wine.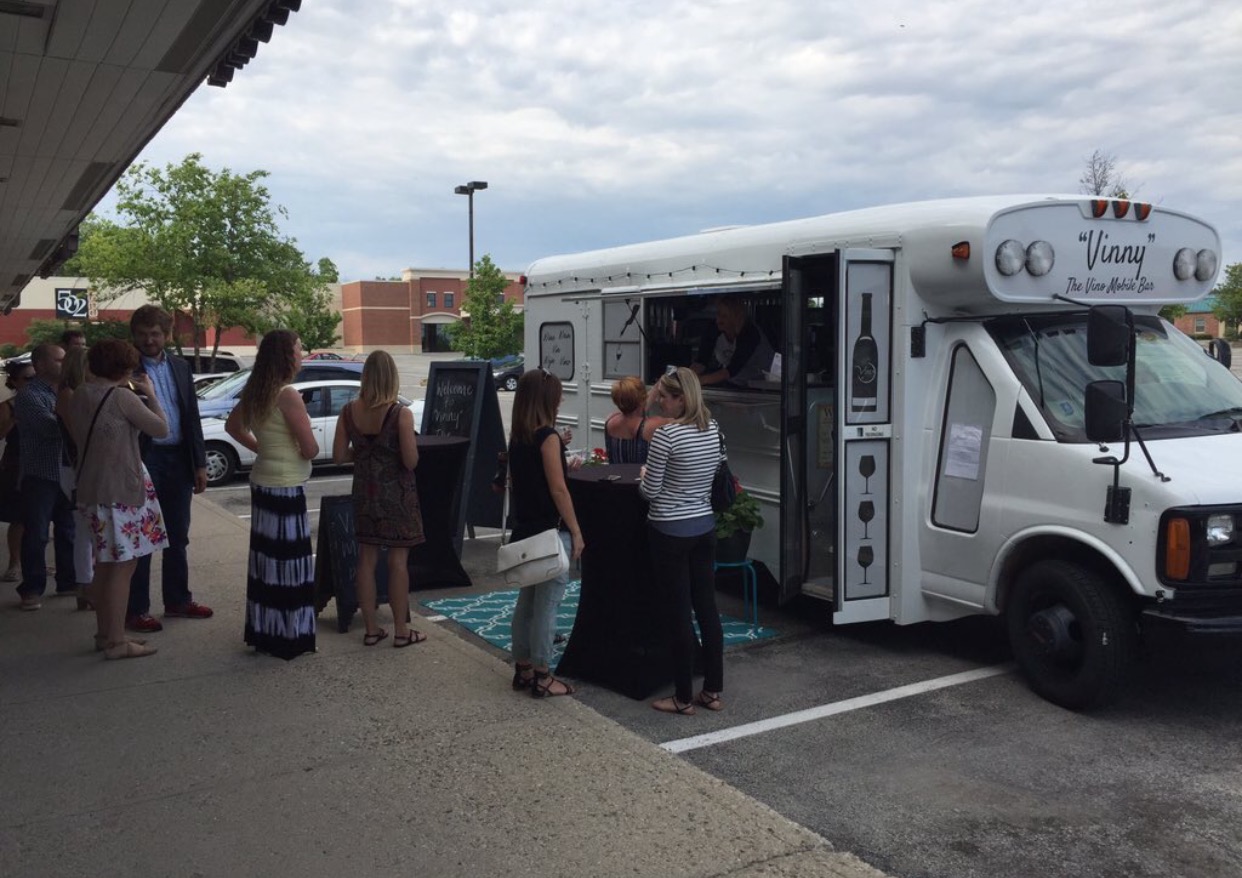 The truck—named Vinny—is the first of its kind in the state and one of only a few in the country.
A handful of wineries throughout the country have mobile bars, but Vino Mobile Bar isn't the product of an existing winery. Instead, Kampmeier is working with several wine distributors, and eventually would like to have a private wine label.
"I don't know of another wine truck like this," said Kampmeier, who also will continue to run family-focused trade shows IndyFamilyFest and Rock the Cradle.
The idea for a wine truck came up about two years ago, and Kampmeier purchased a small school bus for the business at the end of 2015. She and her fiance, Mitchell Aaron, renovated it through the winter and spring.
"Before we even had Vinny done, we had 20 events booked," Kampmeier said. "I wanted to get out there. I wanted to get feedback."
The truck typically offers five to eight different wines, including a variety of red and white and sweet and dry options, for $5 to $9 per glass. Beer also is sold.
No food is provided, but Kampmeier said the menu could be expanded to include wine slushies and wine ice cream in the future.
Unlike food trucks, which typically don't offer a place for customers to enjoy their purchases, Kampmeier sets up a small lounge next to the ordering window. The arrangement includes two to four tall cocktail tables covered in black cloth, a teal rug and multiple plants, mirrors and chalkboards. For evening events, Kampmeier hangs lights around the bar window.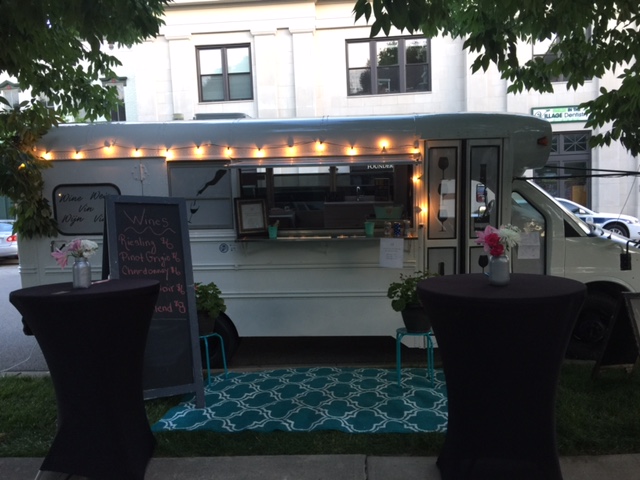 "I think wine gets people talking," Kampmeier said. "There's just something about wine."
She has taken Vinny to various public events such as farmers markets and outdoor concerts, and is also offering rental options for private parties and corporate gatherings.
The rental fees can vary, but a two-hour event could range from $200-$350. Customers have the option to pre-purchase the wine or charge customers per glass.
Corporate events and weddings have custom pricing.
Kampmeier is operating under a temporary permit for now in Marion, Boone and Hamilton counties, but has applied for a catering license.
She said they have events booked almost every weekend through the end of August, although some time slots remain open, and she plans to keep the business active through the colder months by using a portable bar that can be wheeled into event venues.
Looking ahead, Kampmeier said she hopes to franchise the business after securing a private wine label and perhaps a chocolate distributer. She said franchising likely won't get started until next year.
"It's just starting to sink in—we created a wine truck," Kampmeier said.