A proposed mixed-use development in Westfield costing as much as $200 million could bring a convention center, YMCA, hotel and civic center near the suburb's downtown.
Westfield Mayor Andy Cook announced the project being proposed by EdgeRock Development LLC during his State of the City address Thursday.
EdgeRock principal Birch Dalton said the development could cost between $150 million and $200 million.
The site plan (click image for larger view) for what's being called the Grand Millennium Center shows a 120,000-square-foot civic center, 100,000-square-foot YMCA, aquatics center and healthcare facility, 130,000-square-foot convention center and at least one hotel with possibly 500 rooms.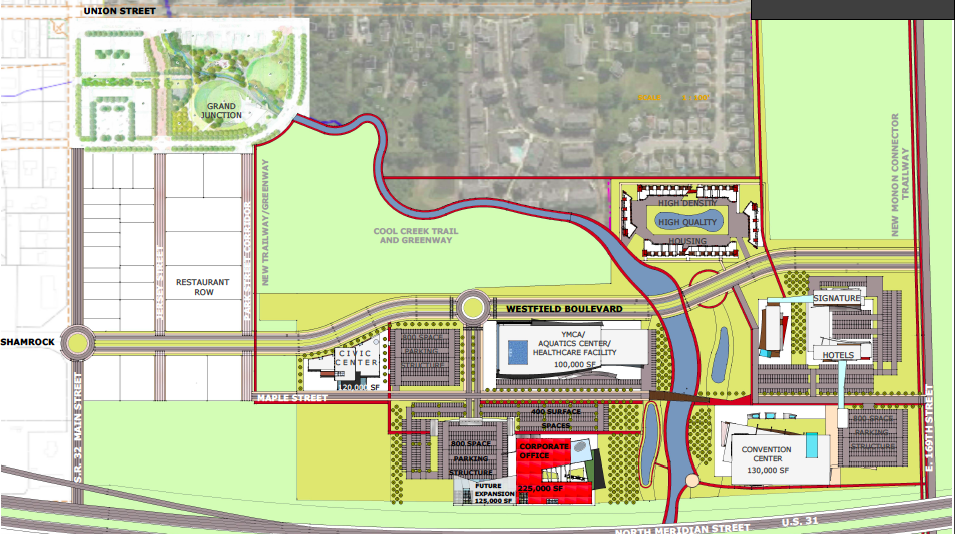 It would also offer 225,000 square feet of corporate office space along U.S. 31 with the potential for a 125,000-square-foot expansion and a "high-density, high-quality" residential section.
Surface parking and two parking garages with 500 and 800 spaces would be located throughout the property.
The development would be along the east side of U.S. 31 and south of State Road 32, stretching from Park Street to 169th Street. The 64-acre property is southwest of Westfield's proposed Grand Junction Plaza and would likely connect to the $25 million urban park through a trail system.
Cook said the YMCA component is not confirmed yet, but city officials have been discussing the possibility.
"They've indicated they're very serious about this," Cook said.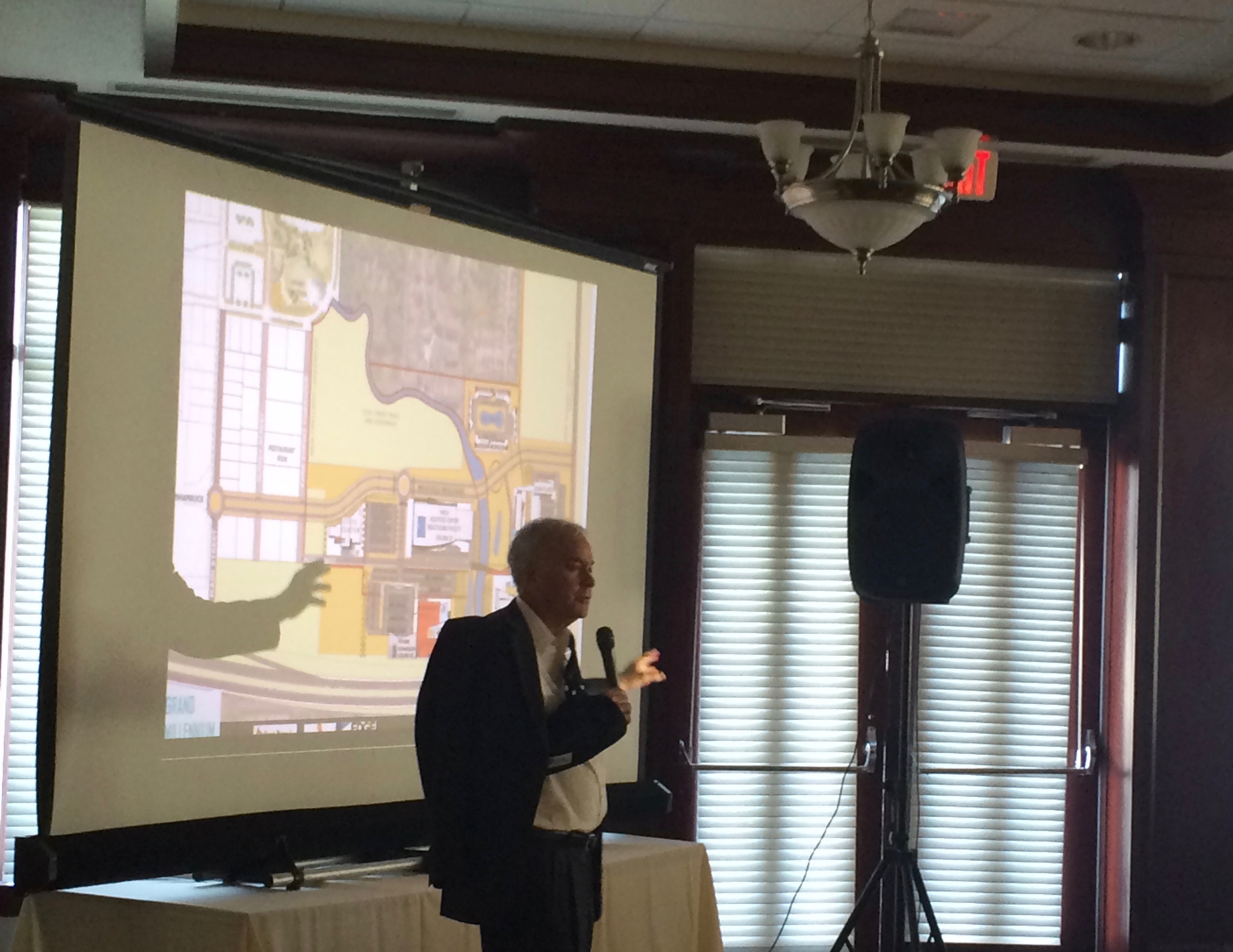 The only YMCA facility in Hamilton County is in Fishers.
"The YMCA is putting together a five year strategic plan and looking at different locations within its seven-county service area," the organization said in an email to IBJ. "No locations have been committed to."
The civic center component is something Cook initially mentioned in his State of the City speech last year. He said it's still a very preliminary idea, but the thought is to create a space where amenities like city hall, township offices, the public library, school administration offices and a health clinic could all be located.
"That dream may be coming true," Cook said Thursday.
Cook said the proposed convention center would be a private-public partnership like the Grand Park Events Center.
Dalton said the hotel area could include a full-service hotel and a limited-service hotel that would be spread throughout three towers.
Also, as part of the project, the city will extend what is now Poplar Street south to 169th Street. It would be renamed Westfield Boulevard.
Right-of-way acquisition, engineering and construction is expected to cost $7.2 million, and the city is expecting state funding to cover some of the expense. Construction is scheduled for 2018.
"This is some exciting news," Cook said. "This is a project that could get started pretty quickly."