Yet another commercial project is in the works near the quickly developing intersection of 161st Street and Spring Mill Road in Westfield.
Indianapolis-based Aspen Property Management and Brokerage LLC has filed plans for a $7 million project named Spring Mill Grand Station that would include five buildings for retail, office and self-storage uses. A playground and pedestrian trail connecting to the Maple Knoll subdivision would be included on the 4.9-acre property just north of 161st Street on the west side of Spring Mill Road.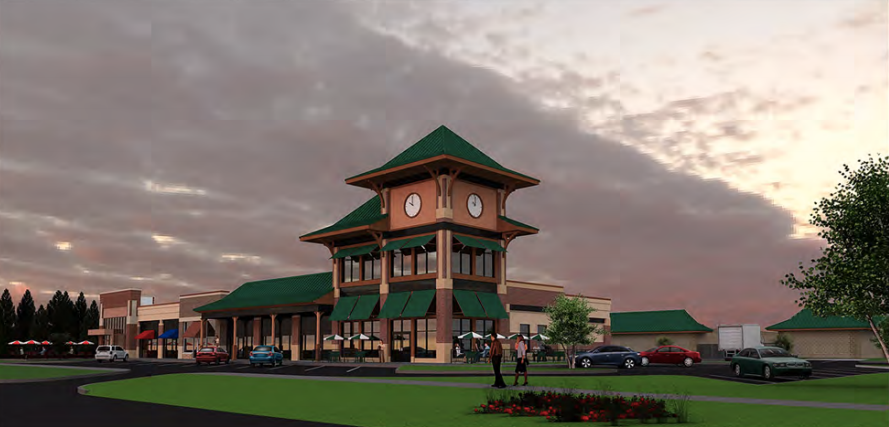 The 15,500-square-foot retail building would face Spring Mill Road (click accompanying image for larger view), with the 7,875-square-foot office building sitting behind it.
Aspen Property Management President John Perine said he expects at least one restaurant to take space in the retail building, similar to Scotty's Brewhouse, Mama Carolla's or Harry & Izzy's. He said Aspen are is targeting ice cream shops, boutique retail and bike shops.
Perine said office users could include manufacturer representatives, insurance agents, stock brokers and mechanical contractors.
"We feel that Westfield is growing with a lot of exciting projects, and we think our development will add to the ambiance in the city," Perine said in an email. "We expect our retail center in front to be a 'hub' for local residents."
About 46,000 square feet of self storage space would be split between three buildings on the west side of the property. Access to the storage facilities would be limited to 6 a.m. to 10 p.m.
According to public documents, the project would incorporate railroad-themed architectural features, like gable roofs and a cupola with a clock.
Aspen Property Management has requested a zoning change for the project, which has not yet received final approval from Westfield officials.
Construction could start in spring 2018.
The project is one of several in the works at or near the 161st Street and Spring Mill Road intersection.
On the southeast corner, the Spring Mill Station development has made progress. A CVS Pharmacy and medical office building with IU Health Physicians as a tenant have opened. The development, led by Cooperstown Partners LLC, will also include a 10,150-square-foot retail building and 1.3-acre common area once completed.
On the southwest corner, Quent Partners LLC has plans for a bank, multiple retail and office buildings, a grocery store and a standalone restaurant. That development is known as the Depot at Spring Mill Station.
And immediately to the west of the Depot at Spring Mill Station, Westfield Residential Investors LLC and EdgeRock Development have proposed constructing a 290-unit apartment complex with 15 multistory buildings surrounding a clubhouse.
The community, dubbed Spring Mill Station, also would include a fitness center, resort-style pool, business center, grilling station, dog park and trail around the perimeter of the 20-acre property.