Riverview Health has proposed the northwest corner of 116th Street and the Exit 5 Parkway in Fishers as the site of one of four new freestanding emergency room and urgent care clinics being built in Hamilton County.
The Noblesville-based healthcare system has requested roughly 2.2 acres of land at the site be rezoned from the current employment node zoning district to the planned unit development-commercial zoning designation. The Fishers Plan Commission has forwarded the request on to the city council with a favorable recommendation.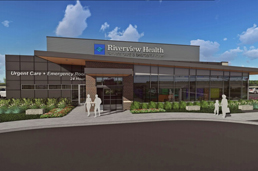 Riverview Health will invest about $6 million to build a 10,700 square-foot facility to deliver emergency and urgent care services (see rendering at right).
Patients will be able to visit the facility to see a physician without an appointment for urgent or emergency medical needs. The emergency room will be open 24 hours a day, seven days a week.
The location is part of a booming area east of Interstate 69 that has seen the openings of Ikea, TopGolf and Portillo's over the past year, plus the beginning of development on The Yard at Fishers District.
The Fishers location is one of four new emergency room/urgent care locations Riverview plans to open in the area. In February, the system announced it would open the facilities in north Carmel, west Carmel, Fishers and the Nora area of Indianapolis.
Riverview Health communications coordinator Christin Barber declined to provide addresses for the other locations, saying specific sites have not been determined yet.
At each location, an emergency physician will see all patients and decide whether the patient should be treated in the emergency or urgent-care setting.
Emergency departments typically offer acute-care service for people with life-threatening injuries, such as those from gunshots and car crashes. Urgent care typically means treatment for less serious injuries, such as sprains and infections.
Riverview Health leaders say such systems help save patients money, since many emergency room visits could be treated in an urgent care facility.
The Fishers location will have a full radiology suite with a 64-slice CT scanner, a digital x-ray machine and ultrasound equipment.
In addition to physicians, staffing will include registered nurses, radiology technologists, clinical technicians and registration, support and managerial staff. Details about how many employees would be hired have not be disclosed.
If the rezone request is approved, construction would begin this summer.