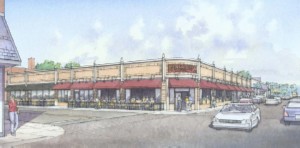 Check out the proposed look for Brothers Bar & Grill in Broad Ripple (
reported
here in December). Keystone Construction has been awarded the contract to renovate the space at 910 Broad Ripple Ave., which currently is occupied by an awards shop. The restaurant/bar is scheduled to open later this year. The designer is Rottmann Architects.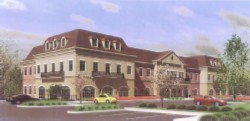 Meridian Real Estate is marketing a new medical office building in Carmel for Justus Homes. The 40,000-square-foot building is proposed for the entrance to the Pro Med Office Park at U.S. 31 and Old Meridian Street. Justus may take 8,000 square feet in the building. The city of Carmel already has approved the two-story limestone building.
And finally, in a bit of a tangent, I'm curious to know what you think of Wal-Mart's new logo. They're changing it for the first time since 1992, and plan to incorporate it at all of their stores (hence, a real-estate connection). They're losing the dash and no longer capitalizing the "M" in Mart. I've posted the old and new looks at right. The world's largest retailer also has posted a
timeline
showing the logo's evolution. What do you think?