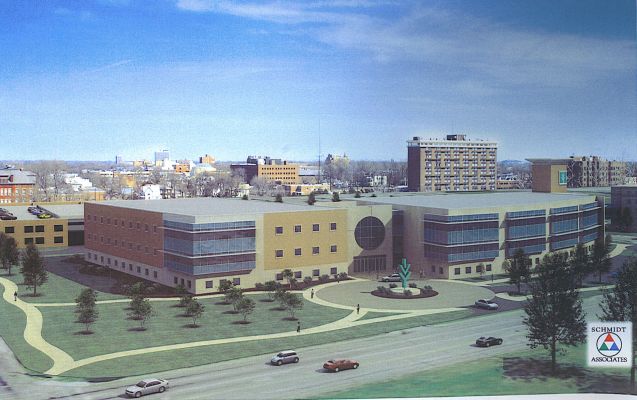 The Indiana Historic Landmarks Foundation is fighting a plan by Ivy Tech to tear down the former St. Vincent Hospital. The college approached the city about razing the historic building and has shared a rendering (shown here) of a proposed replacement. Despite the moves, Ivy Tech spokesman Jeff Fanter says no decision has been made on the future of the former Weyerbacher Terrace. "Our next step is ... we are going to ask for proposals from developers and neighborhood members on how to best utilize the site/building," he said via e-mail.
Historic Landmarks' director for central Indiana, Mark Dollase, said he's never seen any evidence to support Ivy Tech's claim that saving the building isn't economically feasible. The school won a state appropriation of $69 million for the project, and won the city's blessing to tear down three other buildings on the 5-acre site in exchange for saving the old hospital. "I don't understand where the gap was there," Dollase said. "We feel Ivy Tech said they would do something and are now trying to renege."
The change in direction has some political overtones. The college dropped CSO Architects, which designed the original master plan, as one of its principals, Jim Schellinger, vied for a chance to take on Gov. Mitch Daniels. The college hired Daniels donor Schmidt Associates as a replacement.