The developer of the $30 million Artistry apartment project is set to double its investment at the former Bank One Operations Center, by seeking city approval for a second phase.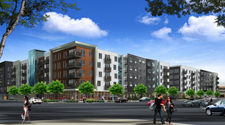 Milhaus Development announced its plans Thursday for the $32 million expansion, as it prepares to welcome the first tenants to Artistry, at 451 E. Market St., later this month.

The first phase calls for 258 apartments and up to 68,000 square feet of first-floor commercial space. Construction will continue into the spring, with the building opening in sections.

Construction on the second phase of 242 units should start in May, pending city approval, and will take the total number of apartments at Artistry to 500.

The second phase is set to be built to the west of the existing structure and will feature two buildings, dubbed Mentor and Muse.

The design of the two buildings will complement the first phase, with the addition of some wood and metal to the outside of the structures, said David Leazenby, Milhaus' vice president of development services. The architect is locally based CSO Architects Inc.

Rents range from about $800 to $1,800.

Residents will have access to a rooftop pool deck, two courtyards and a 3,000-square-foot wellness studio.