Here are more restaurant openings, along with a merger on the north side and a change of ownership in Broad Ripple.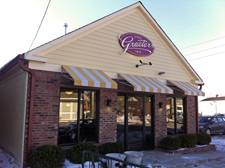 • Union Jack Pub in Broad Ripple is under new ownership. Jay and Chelsey Wetzel, who have worked at the pub for the last year learning the ropes, are in the process of taking over for Brenda Rising-Moore. Relatives of Rising-Moore opened the restaurant in 1979. The Wetzels have added six tap lines to bring the beer count to 21, with a heavy emphasis on craft varieties. They also plan to introduce a new logo to "freshen up" the pub, Chelsey Wetzel said.

• South of Chicago Pizza and Beef opened at Saxony in Fishers on Jan. 31. It's the second location for the pizzeria, which opened in Indianapolis' Fletcher Place neighborhood about three years ago.

South of Chicago is in the Bonn Building at 13578 E. 131st St. It features traditional-style Chicago pizza and local craft beers. The restaurant is co-owned by Bob Jaeger, a Chicago native who now resides in Indianapolis. Hours are Sunday through Thursday 11 a.m. to 10 p.m. and Friday and Saturdays 11 a.m. to 11 p.m. The bar is open until midnight through the week and until 1 a.m. on weekends.

• Graeter's, the historic Cincinnati-based ice cream chain is set to open a new shop by Feb. 14 (and possibly earlier) at 5560 N. Illinois St. in the Butler-Tarkington neighborhood. The location formerly occupied by Curley's Cleaners will be the chain's first store in Indianapolis. Graeter's agreed in August to lease the 2,142-square-foot space.

Graeter's has about 40 shops in Ohio, Kentucky and Indiana.

• The Langton's Irish Pub plans to open a restaurant in late summer at Carmel City Center. Developer Pedcor Cos. said the pub will occupy roughly 3,900 square feet. Columbus, Ohio-based owner CLB Restaurants also operates Matt the Miller's Tavern on Range Line Road in Carmel, as well as in Dublin and Grandview, Ohio. The company's other holding is Tucci's in Dublin.

Langton's will occupy two levels with a bar on both floors. The menu will feature Euro beer, in addition to Irish and American cuisine ranging from Shepherd's pie, fish and chips, and Irish stew.

• Papa Roux has reopened after state officials temporarily closed it due to a tax dispute. Art Bouvier, the owner of the Cajun restaurant at 8950 E. 10th St., settled the bill with the state after one of his customers loaned him the money to satisfy the debt.

• Rail Epicurean Market is slated to open in mid-March in a 150-year-old barn at 211 Park St. in Westfield. The market will be operated by Toby Miles and his wife, who runs Preservation, a maker of artisan jams, jellies and preserves.

Rail Epicurean will feature European style pastries and ready-made sandwiches using gourmet and local ingredients. It also will host special events such as cooking classes, beer gardens and wine tastings.

• Murphy's Steakhouse is moving from its longtime home at 4189 N. Keystone Ave. to 5198 Allisonville Road in a pseudo-merger with Pat Flynn's at the latter location. The new Murphy's will combine a bit of both establishments. The menu will feature traditional steakhouse items with pub fare.

Murphy's will serve its last meal at its current location on Valentine's Day and should be operating at its Allisonville location within the following week.

Also, a Murphy's Pub is expected to open in March at Thompson Road and Arlington Avenue on the south side. Owner Craig Stonebraker also operates a Murphy's Pub in Fishers at 116th Street and Olio Road.

• Horizon Bank opened a branch Jan. 27 at 302 N. Alabama St. in the two-story building the Michigan City-based bank purchased in December 2012 from the Buck Berry Landau & Breunig law firm. It's Horizon's first location in Indianapolis.