A well-known Indianapolis-based restaurant chain is poised to occupy the building in Nora that's been vacant since the Snooty Fox closed almost three years ago.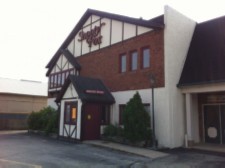 Several real estate sources say Sahm's has signed a lease with the building's owner, Craig Fenneman, best known for creating one of the largest Taco Bell franchises in the country.

Fenneman bought the building a few years ago from Tim Queisser, the former owner of the Snooty Fox. Queisser confirmed the purchase when reached by phone by IBJ.

Sahm's owner Ed Sahm didn't return phone calls from IBJ. But a notice for an alcohol beverage permit registered to an entity called Pru Inc. hangs in the window of the building. According to state corporation records, Pru Inc. is located at 9449 Priority Way, which is also the address of Sahm's Companies.

"It's a good site," said Steve Delaney, " a restaurant broker at Sitehawk Retail Real Estate. "I think they'll do very well there. Snooty Fox was there for many years, and Sahm's has a great reputation in Indianapolis."

Sahm's has 11 locations in the Indianapolis area, including its latest incarnation, Rockstone Pizzeria & Pub, next door to Sahm's Restaurant at 11501 Allisonville Road in Fishers.

The Snooty Fox closed after a 29-year run in October 2011, despite efforts by a cable television show to revitalize the English-style pub.

Queisser attempted to reverse a trend of declining sales by agreeing to a makeover by the Food Network's "Restaurant Impossible" show with TV chef Robert Irvine. But the restaurant couldn't maintain the short-term boost it received from the show.

In other news:

• Hubbard & Cravens Coffee Co. is set to open Monday in 600 square feet in the Barnes & Thornburg LLP lobby at 11 S. Meridian St.

Founded in 1991 by Rick Hubbard and Jerry Cravens, the company has shops at 4930 N. Pennsylvania St., 6229 Carrollton Ave. and at 703 Veteran's Way at Carmel City Center.

• Sushi Boss opened July 28 at 803 W. 10th St., Suite B, in Lockefield Shoppes. The concept allows customers to create their own sushi roll with ingredients they select. Hours are 10:30 a.m. to 11 p.m. Monday through Thursday, 10:30 a.m. to midnight Friday and Saturday, and 10:30 a.m. to 10 p.m. Sunday.