El Sol De Tala is reopening Monday under a new name but led by a familiar face. Javier Amezcua, who founded the Mexican restaurant at 2444 E. Washington St. in 1979 but left in 2012, has struck a deal with the building's majority owner to open a new eatery called Javier's Hacienda Mexican Cuisine.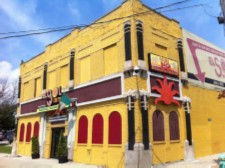 El Sol closed in July under the ownership of Ruben Pazmino, who has a 49-percent stake in the building. The entity that owns the building, 2444 Acquisitions LLC, filed to reorganize under Chapter 11 bankruptcy in March.

The menu at Javier's Hacienda will feature about 30 dishes with prices topping out at $17. Lunch options will be available for $8.95.

"Come to Mexico without leaving Hoosier-land," Amezcua told IBJ. "That's what we want people to feel. Everything's from Mexico, even me."

On Massachusetts Avenue:

• Louie's Wine Dive has leased 2,500 square feet of space in the Massala Building at 345 Massachusetts Ave. It has locations in Minneapolis; Des Moines, Iowa; Kansas City, Missouri; and Omaha, Nebraska.

• Gandolfo's Deli plans a "fall" opening at 333 Massachusetts Ave., in the 3 Mass building. The New York-style deli opened July 31 at 309 S. Delaware St. in the CityWay space vacated by Orange Leaf Frozen Yogurt. (Here's an IBJ review of its fare.) The deli started in 1989 in Salt Lake City and now has nearly 30 locations in 13 states. Other Indiana stores are in Greenwood, Noblesville and Bloomington.

• Mimi Blue Meatballs has filed plans to open at 870 Massachusetts Ave. where Evolve Salon was formerly located.

Also downtown:

• Gallery 42 is set to open Sept. 26 in 2,500 square feet at 42 E. Washington St., with a public reception from 5 to 8 p.m. Local entity JHL Properties bought the historic building in late 2012 and completed an extensive renovation of the property that dates to the 1830s.

The second floor of the gallery will feature artwork specific to the sports and entertainment industries.

Elsewhere:

• Garfield Park Eatery & Coffee is scheduled to open at 7 a.m. Aug. 26 at 2627 Shelby St., according to its Facebook page.

• CiCi's Pizza at 3652 S. East St. on the south side is set to reopen Aug. 27. The restaurant, under new ownership, will open at 11 a.m., and the first 100 guests to purchase an adult buffet will receive a card redeemable for their choice of one free adult buffet or a one-topping "to-go" pizza each month for one year.

Coppell, Texas-based CiCi's operates nearly 500 restaurants in 34 states.

• Tom+Chee is set to open Aug. 29 at 5650 W. 86th St. in the Traders Point shopping center. The tomato soup and grilled cheese sandwich chain opened its first location, in Cincinnati, in 2010. The franchise has about a dozen restaurants in Ohio, Kentucky, Georgia and New Jersey.

Tom+Chee offers more than 25 sandwiches, three daily tomato soup varieties, and salads. Its Grilled Cheese Donut has been featured on ABC's "The Chew" and Travel Channel's "Man v. Food Nation," and was named one of America's best new sandwiches by NBC's "Today Show," according to the restaurant's website.