A developer's plan to build a dual-branded hotel downtown likely won't receive serious consideration until sometime next year, as the firm works to present a suitable design to the Indianapolis Historic Preservation Commission.

IBJ first reported in August that Minneapolis-based CSM Corp. had under contract a parcel at the corner of Pennsylvania and Georgia streets, across from Bankers Life Fieldhouse.

CSM envisions a total of 286 rooms between the two brands—an Aloft and an Element—according to plans filed in early August with IHPC. ( A rendering is below.)

Commission members heard CSM's preliminary plan earlier this month and provided feedback without taking any action.

Because zoning variances are involved, IHPC members said the earliest they could consider approving CSM's plan would be at their November meeting.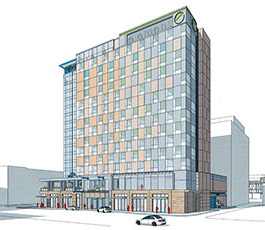 But the architect for the developer, Bryan Strube at Ratio Architects Inc., told IBJ on Wednesday that CSM won't be prepared to present anything then and is unsure when it will be ready.

"The project will not be on the agenda for the November hearing, as the developer continues to investigate and put together other, less visible, aspects of the project," he said in an email. "For the moment, we do not have a timeline to share."

However, Strube noted that both CSM and Ratio were satisfied with the feedback they received at the Sept. 3 meeting, despite a few criticisms of the design.

"There is a disturbing amount of dead space on Georgia Street," IHPC member Susan Williams said during the meeting. "I would recommend that there be some sort of secondary entrance on Georgia Street."

On top of that, some of the IHPC members thought the colors of the Element, which would be built closest to Pennsylvania Street, "seem a little busy," while the design of the Aloft might be a "little too plain."

If built, the project would represent the city's first two-flag hotel building.

CSM would develop and finance the hotel project under a license from Stamford, Connecticut-based Starwood Hotels & Resorts Worldwide Inc. Besides Aloft and Element, its brands include the W boutique, luxurious Le Meridien and the more widely known Sheraton and Westin.