Massachusetts Avenue continues to be a hotbed of restaurant activity. After news last month about The Eagle's plans in the Stout's Shoes space, there's another arrival in the works:

• Fat Dan's Chicago-Style Deli is set to open a second location, at the Millikan on Mass apartment and retail project at 555 Mass Ave. The deli and pub has agreed to take 2,500 square feet, which is about 1,200 square feet larger than the restaurant's space at 5410 N. College Ave. in Broad Ripple.

Established in 2009, the deli offers fresh sandwiches, Vienna sausage dogs, Italian beef, cheeseburgers, smoked ribs, brisket and wings.

No word yet on when it will open. Fat Dan's will join Nine Irish Brothers at the $23 million development across from the Athenaeum at Michigan Street and Mass Ave that includes 125 affordable and market-rate apartments and retail/restaurant space.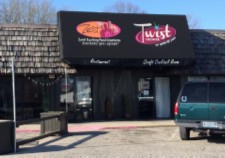 • Zest! Exciting Food Creations and the Twist bar at 1134 E. 54th St. in SoBro served their last customers April 5. Co-owner Valerie Vanderpool, who operated the establishments with her mother, Carol Vanderpool, said they decided to call it quits after nine years.

"We were super busy on the weekends, but we were not busy during the week," Valerie Vanderpool told Property Lines. "We just didn't have enough business to sustain the restaurant."

• Penn & Palate should open in the historic Piccadilly apartment building at the northwest corner of Pennsylvania and East 16th streets in early May, according to owner John Robertson, who operates The Legend Classic Irvington Cafe on the east side with his wife, Kim.

Penn & Palate, a reference to the former Herron Art School location, will be open six days a week for lunch and dinner, with plans for adding early hours on Saturday and Sunday for brunch. The casual-dining restaurant will seat 50 and focus on modern comfort food.
• Movable Feast on the northeast side has closed and plans to reopen April 20 at its new location at 5143 E. 65th St. near Bier Brewery & Tap Room. The 17-year-old establishment will more than triple its space it had at 5741 E. 71st St.

The restaurant operated by Kathleen Tracy and Peter Courtney will feature a larger kitchen and a "grab-and-go" area where patrons can purchase retail items. Its soups are available via Green Bean Delivery and its dressings, marinades and hot cocoa at Wildwood Market in Fountain Square and Goose the Market on Delaware Street on the near north side.

• Celebrity chef Michael Symon plans to open B Spot Burgers in June at Ironworks on the southwest corner of East 86th Street and Keystone Avenue. The location will be the eighth for Symon and the first in Indiana.

The menu at B Spot is heavy on food and drink that begins with the letter "B," thus the name. Favorites include burgers, bologna, brats and beer.

At Ironworks, which features 36,000 square feet of ground-level retail space, B Spot will join Ruth's Chris Steakhouse and Sangiovese, which is set to open in May after closing in September at 4110 E. 82nd St. in the Rivers Edge shopping center.

• Weekends Only Furniture and Mattress outlet plans to open May 22 at 8315 Center Run Drive in Castleton in the former Burlington Coat Factory space. As the name suggests, Weekends Only is open Friday through Sunday and during holidays on Monday. The company says the limited hours help it pass on savings to customers. The retailer carries mid-priced furniture, but it frequently offers special buys, overstock items and truckload purchases at discounts.

The Indianapolis store will be the company's first outside the St. Louis area, where it has five locations.