A slew of openings to report, ranging geographically from downtown to Fletcher Place to Irvington.

• Repeal restaurant is set to open in early June at 630 Virginia Ave. in the former Virginia Avenue State Bank building in the Fletcher Place neighborhood.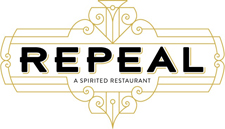 Named after the repeal of prohibition in 1933, the eatery will offer period-themed lunch and dinner dishes paired with craft cocktails featuring locally-distilled spirits from the adjacent 12.05 Distillery. Owned by Teresa Webster, the distillery began shipping liquor in December.

Teresa and her husband, Bill, both operate Repeal. Bill also is an owner of Fountain Square Brewing Co. Joining them as general manager is Andy Porter, previously of Black Market. Mixologist Eli Sanchez comes from Ball & Biscuit, and chef de cuisine Blake Ellis from Tinker Street and Black Market.

• Ladle also is opening on Virginia Avenue, but closer to Monument Circle and across from the 500 Festival building. The restaurant at 44 Virginia Ave., in the former Fortune Bail Bonds space, will offer soups, salads and sandwiches.

• 10 Johnson Avenue, a coffeehouse and cafe named for its Irvington address, should open by the end of August in space formerly occupied by Lazy Daze Coffee House.

The cafe, south of the historic Irving Theater on Washington Street, will feature local entertainment and cultural events, and a menu of gluten-free baked goods, soups, and fine coffees and teas, owner Greg Wolfe says.

• Smoothie King is returning to Indianapolis following a three-year hiatus. Franchisee Chris Sgroi has agreed to operate three locations in the metropolitan area, with the first expected to open in early July at 8270 E. 96th St. in Fishers near the Walmart Supercenter.

Smoothie King's fruit-based drinks range in size from 20 to 48 ounces. Vegan, non-dairy and gluten-free products also are available.

The Louisiana-based franchise has more than 600 locations worldwide. The last remaining local outpost, near Michigan Road and 86th Street on the northwest side, closed in 2012, Sgroi said.

• Salon One Eleven, formerly called Gentspa, will host an open house from 10 a.m. to 5 p.m. Friday to highlight the name change and new ownership.

Located in downtown's Chase Tower, the salon now is owned by Liz Kinney. She previously managed the location and purchased the business from her father, Marty Wright. He still operates the remaining Gentspa location, in the Hilton Indianapolis Hotel & Suites at 120 W. Market St.

The revamped salon in Chase Tower now offers services and treatments catering to both men and women.

• It appears another financial institution will be occupying the space at 1 N. Pennsylvania St. downtown that First Financial Bank is vacating May 29.

Centier Bank has filed plans with the city to install new signage on the building that sits at the northeast corner of Pennsylvania and Washington streets.

Merrillville-based Centier is a relative newcomer to the market, with its lone branch at 568 E. Carmel Drive in Carmel.

• Crackers Comedy Club at 247 S. Meridian St. downtown has closed and is relocating, according to its website. Another comedy club, Jokers Live, has taken the space.