The new ownership group of a century-old office building in Fountain Square plans to convert the space into retail uses and already is getting interest from several restaurants.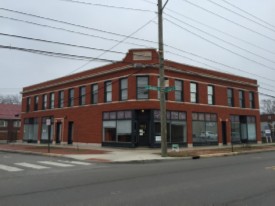 Deylen Realty principal Craig Von Deylen, Fountain Square restaurant Siam Square owner Ed Rudisell and real estate developer John Altman bought the building at 902 Virginia Avenue in September and are planning to invest $2 million in it, including the purchase price, Von Deylen said.

The Woessner Building, as it's known, sits just east of Interstate 65 at the gateway of Fountain Square. Built in 1915, it's named after Jacob Woessner, a prominent south-side resident who operated a meat market on the site as early as 1877.

The building totals 12,000 square feet—enough space for two 5,000-square-foot restaurants and a 2,000-square-foot retailer, Von Deylen said.

"My focus is to get more viable retail in Fountain Square," he said.

The former J.W. Flynn Insurance Companies Inc. renovated the two-story brick structure in 1989 and moved its offices there. The building housed the insurance company until 2005, when Evansville-based Old National Bancorp acquired it.

Then, a group led by local real estate executives John Bales and Greg Rankin bought the building. Midtown Wishard Health Clinic is the lone remaining tenant after the Marion County Superior Court voted in April to close the community court program, which had been located in the building.

Once the court program moved out in the summer and the structure hit the market, the group led by Deylen immediately put an offer on it, Von Deylen said.

"We have a significant investment in the neighborhood," Von Deylen said. "We want to have a good understanding of what is going in [the neighborhood], to service our tenant base in our apartments."

Deylen Realty in Fletcher Place is the developer of the Hinge and Slate apartment projects on Virginia Avenue. Besides owning Siam Square, Rudisell is the co-owner of the Rook and Black Market restaurants. Rook closed its location at the Hinge and is reopening in Slate in January.

The group expects to begin renovating the Woessner Building within the next three months. A courtyard that fronts Virginia Avenue would make "great" outdoor dining space, Von Deylen said. Other building amenities include two on-site parking lots that can accommodate 40 vehicles.