The developer of downtown's Pulliam Square apartment-and-retail project is preparing to put the first phase on the market while passersby marvel at the large hole directly to the west.

But TWG Development LLC remains committed to the long-awaited second phase on that site, President Tony Knoble told Property Lines.

"It has always been the plan to sell this once it is stabilized," Knoble said of the first phase. "We believe there is a deep buyer pool for an asset of this size."

He declined to reveal the cost of developing the project.

The five-story first phase on the northwest corner of New York and Delaware streets includes 145 units that will be more than 90 percent leased by the end of May, Knoble said. Much of the ground level is occupied by The Tap tavern and restaurant, and breakfast eatery Wild Eggs.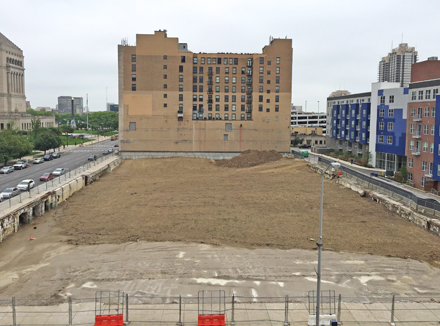 In the meantime, TWG is preparing to present elevations for the second phase of the project to the city in mid-June. It could start construction in September, Knoble said.

Called The Park at Pulliam Square, the second phase will feature 334 units built on the former site of the Indianapolis Star headquarters (see accompanying photo) on the northeast corner of Pennsylvania and New York streets. It would include a pool deck on the sixth floor facing University Park along Penn, Knoble said.

The cost of developing the project would be about $70 million, he said. TWG hasn't decided whether it will hold the project when completed or try to sell it.

TWG demolished the former Star headquarters after paying $11.25 million in May 2013 to buy the building and its 500-space parking garage from the Star's parent company, Virginia-based Gannett Co.

The developer had hoped to save the building. But its odd configuration of connected buildings with mismatched floor heights ultimately made developing the property into apartments too difficult.