Hotel Broad Ripple is poised to add more rooms and introduce meeting and event space by expanding into two adjacent properties.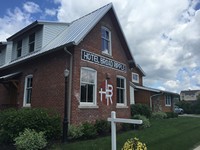 The nine-room inn (top photo) that opened in May 2014 incorporates two properties, at 6520 and 6532 Westfield Blvd., and is operated by developer Debbie Stolen Hasbrook.

She since has bought the neighboring one-story home at 6516 Westfield Blvd. and plans to repurpose the property into four guest rooms. She also has purchased a minority interest in the five-story office building to the south at 6508 Westfield Blvd. (bottom photo), and intends to convert two vacant floors into meeting and event space.

Ultimately, Stolen Hasbrook hopes her hotel will boast a total of 25 rooms by adding 12 in the office building in addition to the meeting space, once remaining leases expire.

Demand for rooms is driving expansion plans. The hotel is booked most weekends and is busiest from March through December, Stolen Hasbrook said.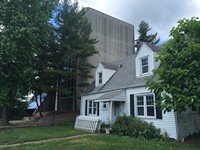 All rooms would face the Monon Trail to the west, with all hotel buildings connected by a covered walkway.

Nightly room rates are priced from $160 to $200, except for a large suite that runs $250. New rooms also will be priced under $200, she said.

The Metropolitan Development Commission's hearing examiner is slated on July 14 to hear Stolen Hasbrook's request to rezone the two properties.

Hotel Broad Ripple currently incorporates the historic Merrill Stage building at 6520 Westfield Blvd., which houses five guest rooms and common space. The other building has four rooms. Built in the 1880s, the Merrill Stage building is one of the oldest in Broad Ripple.