Speedway officials have dropped plans to erect large billboards on the town's water tower advertising Indianapolis Motor Speedway events.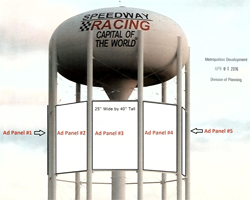 The town withdrew a request Wednesday to the Indianapolis Metropolitan Development Commission to allow for five, 1,000-square-foot panels on the water tower along East 16th Street near the famed oval.

The seasonal panels (see accompanying image) would have been used from April through October, during IMS-related events, and would have raised advertising revenue to help maintain landscaping and lighting structures along Crawfordsville Road, according to the city filing.

Similar panels already exist along 16th Street and Georgetown Road on IMS property, town officials said in a memo to the MDC explaining the Speedway Hearing Examiner's earlier decision to recommend approval of the request.

But Department of Metropolitan Development staff didn't agree, recommending MDC deny it on grounds that zoning regulations for the special-use, 13.5-acre site on which the water tower sits prohibits "off-premise" outdoor advertising signs.

Outdoor advertising is permitted in some commercial, industrial and mixed-use districts, but at a smaller size of 672 square feet, DMD staff said in its report.

"Notwithstanding the inappropriateness of these signs for the large size, this site and the zoning district proposed for these signs, staff's concern is at least partially due to the tower's distance from 16th Street and the use of the tower as a sign structure, instead of erecting an appropriately sized and located sign and sign structure," DMD staff wrote.

Speedway Town Manager Ian Nicolini, who was to present the request to MDC on Wednesday, told Property Lines that the advertising plans ultimately were scuttled due in part to water disruption concerns.

"The possibility of utilizing space on the water tower is an exciting concept and would provide the Town with a revenue source to upgrade improvements along Hulman Memorial Way (Crawfordsville Road)," Nicolini wrote in an e-mail. "However, our primary concern is insuring that we could do so without risking damage to the water tower or disrupting service and, unfortunately, we weren't able to find a solution in time."

It's possible the town will revisit the issue, he said.