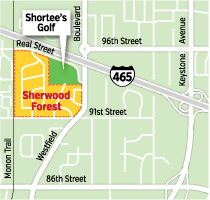 Herman & Kittle Properties Inc. has withdrawn its request to build a 306-unit apartment project on the north side, more than a year after the developer submitted the controversial plans.

The Metropolitan Development Commission continued Herman & Kittle's petition to rezone 23.2 acres at 1775 E. 96th St. from Feb. 17 to Aug. 17, at the urging of the developer.

But the MDC won't be considering the rezoning request after all, now that Herman & Kittle has withdrawn it, according to a Department of Metropolitan Development staff report.

Indianapolis-based Herman & Kittle did not respond to IBJ requests for comment.

The developer in July 2015 first presented its plans to rezone the 23 acres where the par-3 Shortee's Golf course sits on East 96th just west of Westfield Boulevard.

Neighbors in Sherwood Forest to the south opposed the project from the start, arguing that the density was far too high than what the city's comprehensive plan suggests for the site.

In an attempt to appease the neighbors, Herman & Kittle cut the number of units at least three times, from 444 to 384 to 306, and reduced the height of adjacent buildings to the neighborhood from three stories to two.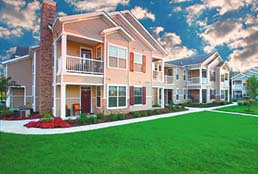 Resident density of Links at 96th was reduced several times to appease neighbors. (Rendering courtesy of Herman & Kittle Properties Inc. )
The 306 units equates to 13.2 units per acre, much higher than the two to three residences per acre recommended by the comprehensive plan.

Herman & Kittle had an option to buy the property from a three-person local ownership group.

Once farmland, the site has been home to Shortee's since 2000. Shortee's owner Don Turchan built the golf course and leases the land.

Downtown, Herman & Kittle is building a $28 million, 211-unit apartment project at the southeast corner of College and Maryland streets.

The company has developed and managed properties in 15 states. It currently manages a portfolio of roughly 13,000 apartment units and 6,000 self-storage units.