Tesla's first official service center in Indianapolis should be open by the end of the year.

Representatives of the Palo Alto, California-based electric car company told Property Lines on Wednesday that Tesla has signed a lease to occupy the 26,000-square-foot building in Castleton last occupied by a Golf Galaxy store.

Construction at 8280 Castleton Corner Drive should start next month and finish in December.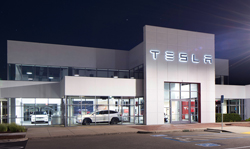 Tesla has operated a sales outpost in the Fashion Mall (it will remain open) since late 2013. But having its own service center should help the company boost sales in Indiana, said Will Nicholas, Tesla's government relations manager.

"Seeing is believing," he said. "It sometimes takes the physical presence to compel someone to move away from that current brand of car they're driving."

Tesla operates about 60 service centers in the U.S. and has several more in the works including the Indianapolis shop. (A photo of the shop in Dublin, Califormia, is above.)

Tesla's nearest service center is in Cincinnati. Yet local Tesla owners seldom need to leave Indianapolis. That's because the company for the past 2-1/2 years has leased shop space in Zionsville to serve local owners, said Seth Aichinger, Tesla's local service manager.

"We have everything but the front desk and the waiting room," he said.

That will change when the company opens in Castleton.

Meanwhile, Tesla's business model in which it sells cars in Indiana directly to consumers is under threat. State Rep. Kevin Mahan introduced a bill last session that would "provide that a dealer license issued to a manufacturer expires after 30 months and may not be renewed." Tesla would have to find franchised dealers to sell in the state after 30 months.

The bill was relegated to further study but could resurface this session. The House Committee on Roads and Transportation is slated to discuss the issue at a Tuesday hearing.

In other retail news:

• Nadeau, Furniture With A Soul, has opened a store at 5459 East 82nd St., next to Trader Joe's.

Founded in 1991 and headquartered in Santa Monica, California, Nadeau has more than 30 locations across the country.

• Pet Valu has opened in Carmel, at 11405 Spring Mill Road in The Bridges development. The Canadian-based company also has locations in Zionsville and on the south side of Indianapolis at 5855 Madison Ave.

• Newk's Eatery, a Jacksonville, Mississippi-based fast-casual chain, is expanding into Indiana and plans to open 15 restaurants in the Indianapolis and southern Indiana areas over the next several years, the company said Thursday.

Franchisee Indy Eatery LLC is co-owned by Stephen "Kent" Mabe and Mitias Garrett Investments LLC. Mabe, a Carmel native, will serve as the local operating partner.

Founded in 2004, Newk's serves made-from-scratch sandwiches, salads, soups and artisan pizzas using fresh ingredients, accompanied by a "unique level of service and Southern hospitality."