After months of speculation on where it might land, Mass Ave Toys will leave its longtime downtown location for space south of Broad Ripple.
Owner Natalie Canull has signed a lease to occupy 3,000 square feet on the south side of East 54th Street just east of the Monon Trail, she confirmed to IBJ, and will open there early next year.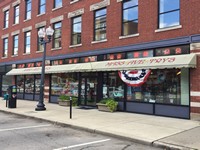 Canull is taking warehouse space behind Ferguson Bath Kitchen & Lighting Gallery (formerly Reese Kitchens) at 1057 E. 54th St. The Reese family, which owns the buildings, is converting the 22,000-square-foot warehouse to retail usage.
"Our little star will be at the very back," building owner Suzy Reese said of Mass Ave Toys. "You'll be able to see it from the street because [the rear of the building] sticks out."
Reese and her husband David are converting the warehouse to accommodate up to 10 shops after Ferguson Bath outgrew the space and built a larger warehouse at another location. Ferguson bought Reese Kitchens in 2012.
So far, one of the 10 spaces is occupied. Knoxville, Tennessee-based Random Acts of Flowers, a not-for-profit that recycles flowers for those in need, arrived on Sept. 1.
Other businesses in the area include Mama Carolla's Italian restaurant to the west, The Dancing Donut to the north and The Gallery Pastry Shop to the east.
Mass Ave Toys will remain at its current location at 409 Massachusetts Ave. until the end of the year, Canull said. The store's move is being triggered by the sale of the building, which closed Sept. 30, to Monon Housing Partners LLC.
Monon's Annex Student Living division will occupy the second and third floors and market the first floor space occupied by Mass Ave Toys to a restaurant, principal Kyle Bach told Property Lines.
Canull founded Mass Ave Toys in 2006 after operating Kits & Kaboodle from 1978 to 2005.