We'll start this roundup off with a new entry expected to hit the local culinary scene:

• Blue Sushi Sake Grill announced Tuesday morning that it has agreed to take space in the Ironworks at Keystone mixed-use development at the southwest corner of East 86th Street and Keystone Ave. It's expected to open next fall.

Blue Sushi is operated by Omaha, Nebraska-based Flagship Restaurant Group. The location at Ironworks will be the restaurant's first in Indiana and 10th overall. Sushi dishes are served at the center of the table in traditional Japanese style. Other menu items include the River Rock Beef Tenderloin, Shishito Peppers and Yellowtail Serrano.

Flagship's other concepts include Roja Mexican Grill, Blatt Beer & Table and Plank Seafood Provisions.

On the south side:
• Bob's Discount Furniture plans to open at 7565 U.S. 31 in roughly 32,500 square feet now occupied by a Kittle's Rooms Express south of East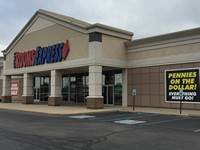 Southport Road. A spokesman for the Manchester, Connecticut-based chain said the location should open sometime in the spring.
The store would mark Bob's entry into the Indianapolis market. Its lone Indiana outpost is in Merrillville.
Kittle's Rooms Express is leaving the location and merging into Kittle's Greenwood store at 665 U.S. 31 south of Greenwood Park Mall, an employee said.
Also on the south side, in Greenwood Park Mall:
• Chocolate Moonshine and #Gifts are the latest tenants to arrive in Greenwood Park Mall, while Think Geek is set to open by the end of the month.
Chocolate Moonshine serves its specialty chocolate from the mall's food court, and #Gifts, a locally based holiday gift store, opened across from Lenscrafters near the children's play area. Think Geek, which will stock merchandise that caters to the "geek culture," should open by the end of the month across from Foot Locker.
In Broad Ripple:
• Erbert & Gerbert's Sandwich Shop has filed to open at 930 Broad Ripple Ave. in the 1,400-square-foot space formerly occupied by Sigman's Gallery.
The Eau Claire, Wisconsin-based chain has about 70 locations, mostly in Wisconsin and Minnesota. The Broad Ripple store would be its first in Indianapolis.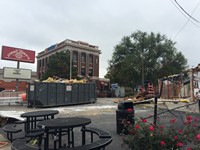 In other sandwich news, the Jimmy John's shop at 845 Broad Ripple Ave. looks to be undergoing a major renovation.
On the north side:
• UPaint Pottery Studio is coming this fall to Hamilton Town Center, across from Stone Creek Dining Co. near Dick's Sporting Goods.
The locally based studio has locations in Greenwood at 3113 W. Smith Valley Road and in Plainfield at 1820 E. Main St.
Downtown:
• The Alexander has been recognized for the first time by readers of Conde Nast Traveler as one of the top 10 hotels in the Midwest.
Located in CityWay at Delaware and South streets, the 157-room Alexander features the Cerulean restaurant. Nightly room rates range from $189 to $389. The hotel is part of the Dolce Hotels and Resorts chain.
• Rooster's Kitchen opened Oct. 17 at 888 Massachusetts Ave. in the space last occupied by R Bistro.
Operated by Ross Katz, the restaurant features American home-style favorites in a casual setting. Property Lines first reported Katz's plans in early September.
Elsewhere:
• GetGo Cafe + Market locations opened Oct. 14 at 8249 Rockville Road in Indianapolis and at 3061 E. Main St. Two more are set to open soon, at 6990 Pendleton Pike and at 4927 E 146th St. in Carmel.
Operated by Pittsburgh-based Giant Eagle, GetGo opened its first gas station and convenience store in the Indianapolis area in October 2015 in The Bridges development at 11505 N. Illinois St.
In case you missed it, a couple of closings:
• The O'Malia's Food Market on South Meridian Street is set to close Nov. 5, leaving just one store to carry on the once-popular local grocer's name.
• The Rocket 88 doughnut shop on Monday closed both its locations—in Fountain Square and in SoBro in the Meridian-Kessler neighborhood—as its owner focuses on a new venture.