We'll start off this pre-Yuletide roundup with a name change for a Broad Ripple mainstay, and a sports-related pop-up store opening in the village's parking garage.
• Usual Suspects at 6319 Guilford Ave. in Broad Ripple has been rebranded as The Vanguard.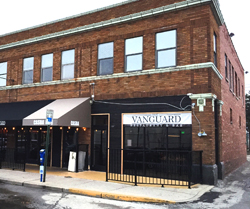 The 88-seat restaurant and bar (see accompanying image) now features a pork- and poultry-centric menu designed by Turf Catering and Kitchen in Castleton.
Co-owner Bill Ficca said the operators of the Usual Suspects decided to rebrand the restaurant to set it apart from "big-box sports bars" that have overrun Broad Ripple.
Usual Suspects opened in 2006.
Also in Broad Ripple:
• An Indy Eleven apparel shop is open through the holidays at 6280 N. College Ave. in retail space in the Broad Ripple parking garage.
Downtown:
• The Livery began serving late last month at 720 N. College Ave. just south of Massachusetts Avenue.
The Latin-influenced menu from local restaurateur Mike Cunningham features four empanadas, four salads, and skirt steak, chicken and pork dishes priced from $5 to $15.
Hours are 4 p.m. to midnight Monday through Thursday, 4 p.m. to 1 a.m. Friday and Saturday, and 4 to 10 p.m. on Sunday.
Cunningham spent $1.8 million renovating and equipping the historic building, he said.
The Livery adds to his stable of downtown restaurants, most of which are in the Mass Ave area. Others are Bru Burger, Mesh, Union 50 and Vida.
Cunningham expects to open a Bru Burger outpost March 6 at the Shops at Perry Crossing in Plainfield, he said.
• Also on Mass Ave, Petra is taking 740 square feet at 610 Massachusetts Ave. next to Libertine Liquor Bar. Owner Mamduh Almaaitah, who operates Ali Baba's Cafe & Hookah Den at 115 W. Market St., said he expects the Greek and Mediterranean restaurant to open sometime in January.
Elsewhere:
• Pet Valu, a Canadian-based retailer of premium pet foods and accessories, opened a store Dec. 3 in Marwood Plaza at 3335 Kentucky Ave. on the southwest side. It plans to open another Dec. 10 in the Willow Lake Shopping Center near West 86th Street and Township Line Road on the northwest side.
• Nearby, locally based Speck's Pet Supplies opened at 1472 W. 86th St. near Ditch Road. Speck's, which launched in 1990 in Avon, now has 11 metropolitan-area locations.
• Joella's Hot Chicken is set to open Dec. 16 at 4715 E. 96th St. The Louisville-based chain will give away free meals for a year to the first 100 adults in line.
• Leena's Bridal Boutique arrived Dec. 1 at 731 Hanover Place in Carmel City Center. The boutique is owned by Kay Zaidi, who operates Carmel Tailoring & Fine Clothier—also in Carmel City Center.
Hours are Monday through Friday 10 a.m. to 7 p.m., Saturday 10 a.m. to 5 p.m. and Sunday by appointment.
• Vardagen opened Dec. 3 at Castleton Square Mall in space next to Victoria's Secret across from Gap. Vardagen is locally owned and offers satiric T-shirts, clothing, handmade skateboards and espresso drinks. Its original location is on East 116th Street in the Nickel Plate District in Fishers.
• At Circle Centre mall downtown, Foot Prints, a women's boutique featuring evening wear, shoes, and dresses, is open on the second level at the south end across from GameStop and Lids.
• Goodwill opened its latest store Nov. 29, at 2950 E. 38th St. in the Avondale Meadows neighborhood. The 12,000-square-foot donation center features more than 80,000 items.
• Culver's has filed plans to build a 4,400-square-foot restaurant at 8232 Country Village Drive near Rockville Road and across from a Kroger grocery on the city's west side. The Wisconsin-based chain has 10 locations in the Indianapolis area.
Closings:
• Orange Leaf at the Rivers Edge Shopping Center on East 82nd Street shut its doors late last month.