We'll start the new year off with a new concept from an old staple:
• Greek's Pizzeria is tapping into the craft beer craze by opening a restaurant and taproom on North College Avenue south of Broad Ripple.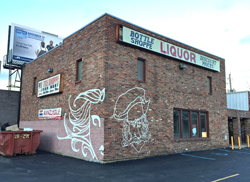 Named Greek's Pizzeria and Taproom, the eatery plans to lease a building on the northeast corner of College and East 49th Street owned by The Bottle Shoppe (see accompanying image). It expects to begin serving customers in March.
The two-story space totaling 2,800 square feet has been vacant for several years, save for the liquor store using the second level as whiskey storage.
Greek's franchisee Josh Trisler will operate the pizzeria and has forged a relationship with Quaff On! Brewing Co. in Bloomington, the brewing arm of Nashville, Indiana-based Big Woods.
Quaff On beers will occupy at least 12 of the 19 taps at the Greek's, Trisler told Property Lines. Trisler also operates the Greek's Pizzeria at 120 E. Main St. in Carmel.
Muncie-based Greek's, founded in 1969, has 17 locations in Indiana, including outposts in Fishers, Noblesville and Zionsville, and on the south and northeast sides of Indianapolis.
• Metro Diner is set to open its third Indianapolis location on Jan. 17 in the parking garage at Butler University. The Jacksonville, Florida-based breakfast chain is taking roughly 3,800 square feet on the ground floor of the garage, joining Scotty's Dawghouse there.
Metro Diner opened in May at 3954 E. 82nd St. at Clearwater Crossing and in October at 7225 U.S. 31 South in an outlot building in front of a Walmart Supercenter south of Southport Road.
• Zaxby's opened Jan. 2 at 254 Marlin Drive, near State Road 135 and West Main Street in Greenwood. It's the fourth metro-area location for the Georgia-based fast-casual chain that offers chicken wings, chicken fingers, sandwiches and salads.
Zaxby's has another restaurant in Greenwood, at 1274 N. Emerson Ave., as well as outposts at 8810 Wesleyan Road on the northwest side near 86th Street and Michigan Road, and in Fishers.
Now for closings:
• Cafe Nonna at 629 Virginia Ave. has shut its doors after a nearly two-year stint in the Fletcher Place neighborhood. In a message on the gelato shop's Facebook page, owners said: "As some of you may have seen in our window (and due to circumstances beyond our control) the space and business is going to be auctioned off this coming Monday, Jan. 9. We have had such a wonderful experience sharing our family history and recipes with you. Thank you from the bottom of our hearts for supporting our business and our family."
• Backroom at the Limited stores have closed at Circle Centre mall and at Castleton Square Mall, apparently as part of mass closings nationwide for the chain. Click here for more details.
• Also at Circle Centre, The Loft is closing Jan. 21. The women's clothing chain, owned by Mahwah, New Jersey-based Ascena Retail Group Inc., will still have locations at Castleton Square Mall, Greenwood Park Mall and The Shops at Perry Crossing.
• In case you missed it, Bourbon Street Distillery at 361 Indiana Ave. downtown is scheduled to close Friday after 15 years in business.