Books & Brews, the used bookstore and brewpub that launched on Indianapolis' north-east side in 2014, is nearing a deal to open its third location, with more to follow, owner Jason Wuerful told Property Lines.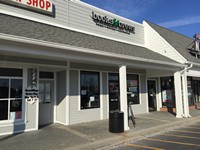 Wuerful in July 2016 followed his original outlet at 9402 Uptown Drive near Interstate 69 and East 96th Street by opening in Zionsville's Boone Village Shopping Center (right). Now he's poised to sign a lease for space in Muncie.
But that's not all. Wuerful also has registered with the state of Indiana to franchise his concept—a process that should be completed within the next few weeks, he said.
Any new franchised brewpubs, to start, would be located in Indiana and would require a $25,000 fee for the rights to the Books & Brews name.
"We started to get a ton of interest from people about our business model," Wuerful said. "So we have simultaneously started the process of franchising while taking advantage of opportunities from a company perspective."
The location in Muncie, for instance, will be company-owned. But Wuerful has recruited about 20 to 25 investors to help get it off the ground.
"They want to be involved but don't have the time and don't have 100 percent of the resources available to do the franchise," he said.
Wuerful described his business model as "inexpensive" and "easy to operate."
He currently brews his beers for his Indianapolis outpost. But as he expands, new locations could be equipped with an optional brewery to complement the taproom.
Books & Brews sells its used books that are donated by patrons for $3 each. And its beers carry fictional themes. Among the most popular: Nancy Brew, Hoppy Boys and Clifford the Big Red Ale.
Appetizers, sandwiches and flatbreads also are on the menu.