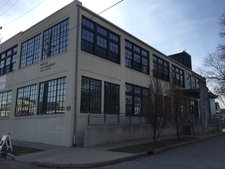 Southeast Neighborhood Development is seeking a partner to help it redevelop a historic building in Fountain Square that houses the community development corporation's headquarters, in addition to 36 apartments.
The property at 1035 Sanders St., directly to the west of the new Goodwill store fronting Shelby Street, includes the Wheeler Arts Community building and an addition to the rear known as the Wheeler warehouse. A separate, smaller building on Orange Street to the south that SEND leases to Joyful Noise Recordings also is part of the package.
SEND on Monday issued a request for proposals to redevelop the site and to shift majority ownership of the property from the organization.
"Ideally, we'd like to stay in the deal as a minority owner," SEND Executive Director Paul Smith said. "But we have very limited funds. There needs to be a developer to give the building the next 15 to 20 years."
The two-story, 51,750-square-foot building was constructed in 1900, expanded in 1920 and renovated in 2000 as part of a SEND project to bring affordable artist lofts to Fountain Square as part of the enclave's renaissance.
A private investor in the renovation is no longer involved, after the 15-year tax credits that helped finance the project expired, prompting SEND to seek proposals.
"We were a 1 percent owner; now we're a 100 percent owner," Smith said. "You have a building that's in pretty darn good shape, but it's tired."
The 1,000-square-foot units rent for $500 a month—a level too low to produce enough income to make costly repairs and well below market rate for the rejuvenated Fountain Square neighborhood.
A major renovation of the building could justify pushing rents perhaps to $800 or $900 per month, Smith said.
The Wheeler building is named for one of its original tenants, the Wheeler-Schebler Carburetor Co., which manufactured carburetors there from 1911 to 1951. Frank Wheeler and George Schebler formed the partnership and lent their names to the Wheeler-Schebler Trophy, a precursor to the Borg-Warner trophy presented to winners of the Indianapolis 500.
In 1941, Wheeler-Schebler sold the building to the Ransburg Corp., which developed the process of electrostatic painting. Ransburg left the building in 1976 and sold it to R.L. Hartley Corp., which occupied it until 1985. The structure sat vacant for more than a decade, until SEND helped to revitalize it.
SEND is accepting proposals to redevelop the building until May 15 and hopes to announce the winning bid on July 31.