The downtown Adobo Grill Mexican restaurant at 110 E. Washington St. has closed.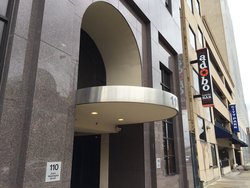 A spokeswoman for its parent company, Chicago-based The daVinci Group, confirmed to IBJ on Tuesday that the eatery shut down on Feb. 26. The owner operates one other Adobo, in the Windy City.
The spokeswoman declined to give a reason for the closing. There was no notice posted on the entrance on Tuesday indicating to customers that the restaurant was no longer open.
Adobo opened in Indianapolis in April 2006 and then moved in 2009 from its 4900 E. 82nd St. location to the downtown spot--6,000 square feet on the ground floor of a condo building sandwiched between the Centier Bank building and a parking garage.
The restaurant was known for making its own guacamole tableside. The menu also dedicated an entire section to ceviche, i.e. citrus-marinated fish or seafood. Its entrees typical ran between $9 and $18. According to its website, it was open seven days a week but primarily in the evenings and never before 3 p.m.

The daVinci Group also owns Pikk's Tavern in Valparaiso and Vinci on the near-north side of Chicago.