New signage paying homage to the Indianapolis Colts and owner Jim Irsay should be going up soon on the facades of the YMCA at CityWay.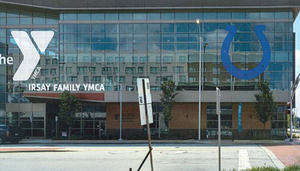 The signs and logos set to adorn the downtown building at 430 S. Alabama St. stem from a multimillion-dollar donation in September to the YMCA from Irsay and the Indianapolis Colts Foundation.
The gift prompted the organization to rename the facility the Irsay Family YMCA at CityWay.
A total of four signs will be placed on the building, with the largest YMCA and Colts horseshoe logos attached to the glass facade on the north side of the building fronting East South Street.
"We're just trying to get them up as soon as possible," Eric Ellsworth, CEO of the YMCA of Greater Indianapolis, told Property Lines.
But the YMCA's efforts to gain city approval for the signage hit a slight snag. A city zoning board initially rejected the not-for-profit's request because the Colts logo is considered an "off-premise" sign because it's being placed at a site other than a Colts facility.
Also, the YMCA's original plans for the signs depicted the Colts logo as larger than what city guidelines recommend. After the YMCA filed for a variance to allow for the off-premise signage, and agreed to reduce the size of the Colts logo, it's expected to gain approval from the zoning board Tuesday afternoon.
"We don't want to stifle philanthropy," said Jeff York, a city planner. "We feel the signs fit well with the building. We only had one small issue, and that was with the window logo on the north facade."
The $24 million YMCA at CityWay opened in December 2015. The three-story, 87,000-square-foot facility is just blocks away from Lucas Oil Stadium. It boasts two indoor pools, three gyms and an elevated running track.