Today's Property Lines roundup starts on the east side:

The RoomPlace on June 30 will unveil its new east-side warehouse and showroom after acquiring a 170,000-square-foot facility in May 2016 and renovating the vacant structure.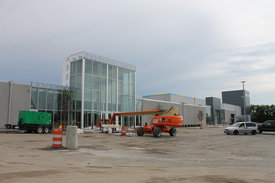 The Lombard, Illinois-based furniture retailer bought the long-vacant Levitz Furniture building at 8301 E. Washington St. (see image at right), which also will become the new headquarters location of RoomPlace's rent-to-own division, EasyHome.
Levitz was the largest independent furniture retailer in the country in the mid-1990s but grew too fast to keep up with its debt load and liquidated its assets in 2008. Its East Washington Street store closed in 1999 after more than 20 years in operation.
Sandor Development, which developed and owned the site, brokered the deal with RoomPlace.
The 70,000-square-foot RoomPlace store will be twice the size of the retailer's average location, with the remaining 100,000 square feet dedicated to the distribution center. RoomPlace said its expansion will create 100 jobs.
RoomPlace will have 25 stores overall, including six in the Indianapolis area. The retailer got its start in 1912 and was known as Harlem Furniture for decades.
— There's a new eatery replacing Long Branch:
A new diner is coming to The Delaware at the northeast corner of Delaware and 22nd streets following last month's closing of Asian-inspired Long Branch.
22nd Street Diner, set to open sometime in the summer, will be operated by owners of The Koelschip on North Delaware Street in Fall Creek Place and MashCraft Brewery, with support from Shoefly Public House owners Craig and Kait Mariutto.
The Mariuttos were owners in Long Branch, along with Scott Lowe.
22nd Street Diner will be staffed by local chefs John Herndon (Plow & Anchor) and Josh Baker (Milktooth), according to a press release.
"Our goal is to provide a satisfying food experience for those who want honest, good food," Herndon said in the release. "Some of my most memorable meals have been at diners across the Midwest and rust-belt, and we're excited to give this concept a try in Indianapolis."
The menu will feature classic dishes such as a roasted half-chicken and modern twists like braised pork cheeks. Each dish will be accompanied by the diner's choice of three sides chosen from a menu likely to include corn bread, seasonal braised hearty greens, kitchen sink bread pudding, a pickle board, baked beans and pasta salad.
— In other retail news:
Pumkinfish has opened at 429 Massachusetts Ave. next to Sub Zero Ice Cream & Yogurt and in the space formerly occupied by Shiraz Wine Experience & Art Cafe.
Operator Will Acton, an owner of Mass Ave Eyewear, describes Pumkinfish as a general store. It sells everything from gift cards to eggs, milk, Smoking Goose meats and gourmet popsicles. Acton is in the process of closing the eye store at 751 Massachusetts Ave. and will move his large selection of Ray-Ban and Oakley sunglasses to Pumkinfish.
He also will soon offer pre-packaged sandwiches from Cornerstone Bread Co.
Also, Heritage Clothier and Home has opened at 1134 E. 54th St., Studio K, in the 54th and Monon Shops.
Heritage is co-owned by Kent Henry and Stan Wellman and features Henry's designs as well as those by other local and national designers and artists.
The store joins Diavola's, Dancing Donut the new Mass Ave Toys and many others in the retail center on East 54th Street just east of the Monon Trail.