Gabriel Soukup has been preparing for a year to open Happy Brewing Co. on the south end of the Butler-Tarkington neighborhood and is now targeting Oct. 6 to begin serving up his crafted pints.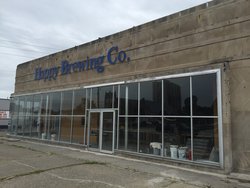 The Noblesville resident moved brewing operations from Daleville to Indianapolis and set up shop at 3902 N. Illinois St. in the 8,500-square-foot building last occupied by a Double 8 grocery store.
Soukup plans to launch with three types of beer—a wheat, an IPA and a stout—and expand from there.
He's not sure whether the kitchen will be open yet. But once it is, Happy Brewery will start with a simple menu of flatbreads and paninis, in addition to a steak sandwich, hot dogs and sausages. Flights of dogs and beers should make for a fun combo, said Soukup, who's anxious to finally open.
"I've been working on the building for a little over a year now, so I've gotten to know a lot of people there," he said. "The community's really starting to embrace us."
Soukup next year hopes to add a rooftop deck that would overlook the upgraded Tarkington Park on the east side of Illinois Street and also give patrons a view of the downtown skyline.
The roof is more than capable of supporting a deck, Soukup said. The building, originally constructed in the 1930s as a car dealership, boasts reinforced 12-inch-thick concrete to allow for cars to be parked on the roof, via a freight elevator at the rear.
Double 8 occupied the building until July 2015, when the local grocery chain closed its last four stores in Indianapolis.
Happy Brewing will be one of the first completed projects in recent efforts to revitalize the Illinois commercial corridor north of 38th Street.

The area has been targeted by the Great Places 2020 initiative, led by the Local Initiative Support Corp. It aims to funnel private-sector investments into five neglected areas, including the area around 38th and Illinois known as Maple Crossing. The others are East Washington and Oxford streets (Englewood Village), West Michigan Street and King Avenue (River West), the Twin Aire neighborhood east of Fountain Square, and the area around 25th Street and Dr. Martin Luther King Jr. Street.

In Maple Crossing, local developer Flaherty & Collins Properties is partnering with North United Methodist Church to develop the surface lot the church owns to the west of its property, which runs along the east side of Illinois Street between 38th and 39th streets.
Plans there call for a $16 million mixed-use development with 68 mixed-income apartment units anchored by a grocery. The partners on the projects on Aug. 10 received city approval to rezone the properties to accommodate mixed-use development.
In addition, Flaherty & Collins bought the five-story United Way of Central Indiana building at 3901 N. Meridian St. in April 2016 and revealed plans two months later to co-develop the property with community development group Midtown Indianapolis Inc. They want to convert the structure, built in 1969, into 70 mixed-income apartment units with up to 15,000 square feet of street-level office space. The total investment is estimated at $15.6 million.

Midtown Indianapolis Inc. owns the Concord building at 3801 N. Illinois St. and plans to move there from 3965 N. Meridian St. The organization hopes to raise up to $750,000 to replace its 52 windows and heating and cooling system, among other improvements needed in its conversion to incubator space.