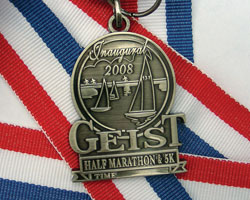 The Indianapolis 500 Festival Mini-Marathon is over, but the running craze in central Indiana is clearly not.
Organizers for the inaugural running of the Geist Half Marathon and 5K May 17 announced today the event is sold out. Race director Jeff Graves said 2,500 people have been registered for the half marathon and another 2,000 for the 5K. Both events will be run on the roads around Geist Reservoir. Registration for the event was $40 for the half marathon and $20 for the 5K.
Graves didn't announce his race until late last year and didn't begin promoting the event until after the Mini-Marathon sold out around Thanksgiving.
Quickly though, Graves gained traction with corporate sponsors, signing deals with Comcast Cable, Community Health Network and Old National Bank.
"Indianapolis has a great running community and they are coming out in full force to support this new event," said Graves, who was director of the Indianapolis 500 Festival Mini-Marathon for seven years. "Along with the locals, we have participants coming from over 25 states. This event will be very unique in many ways as it is a point-to-point race that will cause participants to take a bus to the start line and back from the finish line."
Registration requests are still pouring in, but the race field is being limited, Graves said, to make sure the event comes off without a hitch.
"After this year's race," Graves said, "we'll review everything, and see how we grow the event from here. The demand is clearly there, and I think this has potential to become a bigger event."