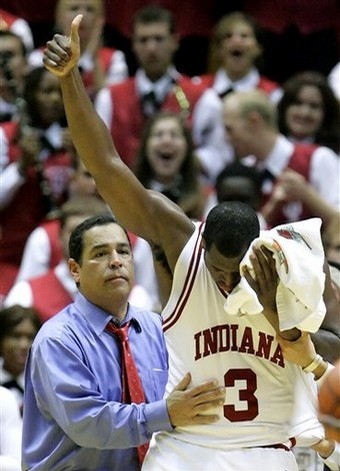 Indiana University senior D.J. White is flying to Phoenix today to start intense training with a personal trainer in preparation for the upcoming National Basketball Association draft.
White already has several private workouts scheduled with different teams and plans to meet with a handful of NBA general managers and coaches between now and the June 26 draft.
White said he is still in contact with former IU coach Kelvin Sampson, and is even relying on Sampson to help ready him for the draft. Sampson resigned under pressure at IU in February for allegedly breaking NCAA rules. Sampson last week was hired as an assistant coach with the NBA's Milwaukee Bucks. Since he left Bloomington, Sampson served as a special assistant to San Antonio Spurs Coach Gregg Popovich. White said he will rely on Sampson's NBA experience to help him navigate the draft.
Draft analysts project White, who played forward and center at IU, to be a late first round or early second round selection. White said he has heard he could go anywhere from No. 18 to No. 35.
White is intent on playing the post in the NBA, but draft analysts said his height, at 6-feet-8-inches, is a big concern. White thinks he will stand tall enough to make in the NBA.
"I figure to be a role player," White told the Indiana Daily Student. "I don't think I'll be coming in and starting right away, but I think I can come in and contribute in a number of ways."