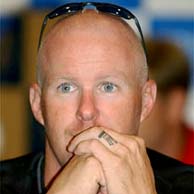 One of the most well known drivers from the now defunct Champ Car open-wheel race series, Paul Tracy, is still without a ride for this year's Indianapolis 500.
Veteran race team operator Derrick Walker is trying to put together an 11th hour deal that will put Tracy on the famed Speedway this May. Walker told IBJ yesterday the effort to field a car is looking grim—though not completely dead.
"At times, I think we're real close," Walker said. "But if we're going to go out there, I want to put together a solid effort, and that takes about $500,000. The worse thing that can happen is to become a bump day story. I don't want to make a fool of myself."
Walker has set a deadline for himself of early next week to get a deal done to make a qualification run at this year's Indianapolis 500. That would give Tracy two or three days of practice on the track before the second weekend of qualifications.
Walker said if it doesn't work out for this year, he will start working on an effort to field a team for next year's Indy Racing League season. Whether Tracy or someone else would be his driver, he said, remains to be seen. But Walker clearly has faith in Tracy.
"Paul can still drive, and he has as much desire as I do," Walker told IBJ from his Indianapolis office yesterday. "Paul still has something to prove. He's still capable of competing at a high level."