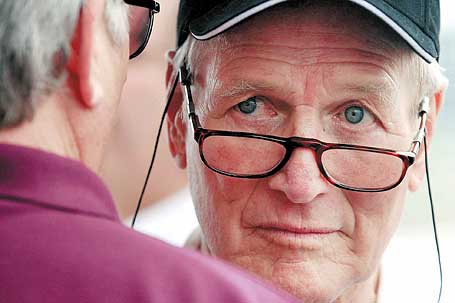 While the second day of qualifications was largely washed out, there were strong signs the Indy Racing League is in a growth mode during the first day of qualifications Saturday. There were also some signs that the newly reunified open-wheel racing series has some growing to do.
Though Indianapolis Motor Speedway and IRL officials don't release official attendance figures, motorsports observers said attendance for the first day of qualifications was up 10 percent to 15 percent from last year, with a crowd of 55,000 to 60,000 on hand. While merchandise trailers were busy—especially Danica Patrick's—there were still plenty of empty seats in the cavernous facility, which according to published reports seats near 300,000.
IRL and IMS boss Tony George held court with about a dozen reporters from some of the nation's biggest daily newspapers, talking about unification and the series' recent growth.
But while George had some positive points to spin, attendance trackers said Saturday's attendance still was only about half of what it was before Champ Car/CART and the IRL had their acrimonious split in the mid 1990s.
But George might have made peace with one of his biggest critics, movie star and part-owner of the  Newman/Haas team, Paul Newman. Just two years ago, Newman said he'd never be part of the IRL or Indianapolis 500. But not only is Newman's team trying to qualify for the Indianapolis 500, there are some signs that his relationship with George is thawing.
Saturday, Newman took part in a press conference in support of The Hole in the Wall Gang Camp, one of the Speedway's pet charities, which serves children with life-threatening illnesses.
"There are a couple of things I have great affection for. One of those is automobile racing," Newman said Saturday. "The other is to care in some ways for kids who have been less fortunate than I have. And to be able to have this coming together of two organizations working together to that purpose is a home run for me. That Tony (George) has chosen to bring his organization is just stunning to me. It's an amalgamation on two fronts now."