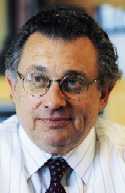 Herb Simon's proclamation yesterday that Indiana Pacers' point guard Jamaal Tinsley must go, raised a few eyebrows here in the Hoosier Heartland. Just a few months ago, you couldn't get the team's co-owner to say peep. For years, Herb and his brother Mel have operated way, way behind the scenes.
But shortly after last season ended, Herb stepped out from behind the current to proclaim he would be taking a new "hands-on" approach to ownership. There's still been no word from Mel, who at last account owned half the team.
Meanwhile, Herb has embarked on a months-long initiative to rub elbows with local media outlets, corporate sponsors and other community leaders. His effort to connect in a deeper way with the community has been widely lauded.
But when an owner starts making public comments about players' on-court abilities and trade market value, one wonders if he isn't treading too heavily on the turf of the man he hired to handle player personnel, in this case Larry Bird.
His statements about Tinsley make you wonder if Simon is going down a path traveled by the likes of George Steinbrenner, Al Davis, Mark Cuban and Jerry Jones. One interesting indication will be where he decides to sit during games. If Simon trades in his sky-high luxury suite seat for a courtside perch, it becomes a very short walk to getting into Bird's or Coach Jim O'Brien's ear about player rotation and play calling. Let's hope we don't see Simon wearing a Pacers jersey or screaming at refs anytime soon.
Thoughts?