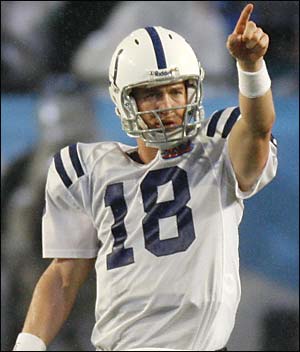 Chad Pennington is no Peyton Manning. He's no Jim Sorgi either. Pennington is expected to be traded or released today by the New York Jets, who just acquired Brett Favre from the Green Bay Packers.
In the next 24 hours, Colts fans could get a good indication of the severity of Peyton Manning's knee injury. If Colts Coach Tony Dungy and team President Bill Polian think there's even the slightest chance Manning might miss the season opener or—gasp—more than that, Polian might be tempted to pick up the phone and call Pennington's agent. Polian isn't about to give up anything major to acquire the nine-year veteran quarterback, but if he can pick him up cheap, he just might do so.
Yes, I know, Pennington's arm strength is questionable, and I'm aware of his shoulder problems. But the 32-year-old Marshall graduate offers the Colts a better chance of winning than Sorgi, a career back-up player.
If Manning's knee is healing nicely, Polian will have zero interest in Pennington, and Pennington would have as little interest in sitting behind a rock solid Manning. But if there's a hint that Manning might not be ready to go, or that Manning's iron-man playing streak could be interrupted at some point this season, the relationship might start to look pretty enticing from both ends.
If Pennington finds Polian on the other end of his cell phone in the next 24 hours, that's bad news for Manning-loving Colts fans, and that would pretty much include the entire state of Indiana.
Thoughts?